Helsinki, Lyon named European Capital of Smart Tourism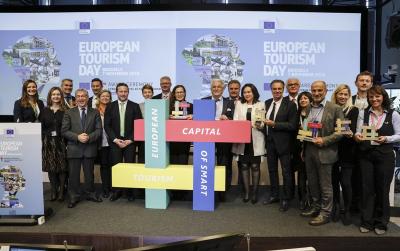 BRUSSELS - The winners of the first edition of the European Capital of Smart Tourism competition were awarded on Nov. 7 at a ceremony in Brussels, on European Tourism Day. The title for 2019 was awarded to two cities: Helsinki and Lyon.
 Cities of more than 100,000 inhabitants were eligible in the first edition of this competition. 38 cities from 19 EU Member States applied, but Helsinki and Lyon stood out for their innovative tourism measures and the impressive programme of activities they have put together to celebrate their achievements.
 Pia Pakarinen, Helsinki's Deputy Mayor, Alain Galliano, Vice-President of Lyon Métropole and Jean-Michel Daclin, President of Only Lyon Tourism and Congress, received European Capitals of Smart Tourism 2019 trophies on behalf of their cities and were delighted that long-term efforts in creating smart environments for tourists in their cities have been recognised at EU-level.
 In praise of the winners, Commissioner Elżbieta Bieńkowska, responsible for Internal Market, Industry, Entrepreneurship and SMEs, stated: "I congratulate Helsinki and Lyon for the outstanding solutions that they put in place to make tourism in their cities smart and innovative. Our objective at EU level is to foster the sustainable development of tourism by showcasing innovative solutions from EU cities in tourism. We believe that the European Capital of Smart Tourism initiative will help to establish a framework of exchange of good practices between European cities, including learning from each other and networking, creating opportunities for cooperation and new partnerships. Tourism is important for the EU economy so we all need to work together more effectively to be more competitive and grow in a sustainable way".
 Pia Pakarinen, Helsinki's Deputy Mayor commented: "We very much appreciate the opportunity to be the first European Capital of Smart Tourism. The first ones always set the bar and we aim high".
 In order to become a European Capital of Smart Tourism, a city needed to demonstrate exemplary achievements as a tourism destination in implementing innovative and intelligent solutions in all four award categories: accessibility, sustainability, digitalization and cultural heritage and creativity.  It also needed to convince the European Jury about its suitability to act as role model for other burgeoning smart tourism destinations.
 To celebrate their success, Helsinki and Lyon have planned an exciting schedule of activities for 2019. For example, Helsinki will be launching a smart city guidance pilot scheme, making use of collaborative work with businesses and digital tools to create a smarter way to guide people in the city. Helsinki will organise a workshop with other European cities on smart tourism and will hold the World Tourism Cities Federation's annual global summit and trade fair. 
 Helsinki and Lyon have been awarded with promotional videos, exhibition at European Tourism Day and purpose-built giant sculptures which will be installed in prominent locations in the two cities.  During 2019 both capitals will also benefit from promotional actions at EU level.
pm