Salvini warns EU to stop 'jerking Italy around' over migrants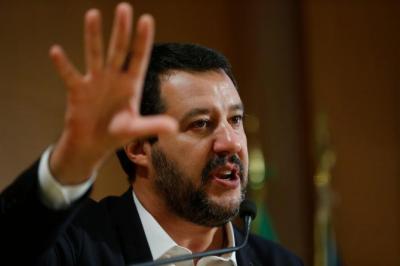 ROME – Interior Minister Matteo Salvini went on the offensive yet again this week, calling on the European Union to stop "jerking Italy around" over its tough stance on immigration, in light of recent claims that the Maltese government helped a boat of migrants reach European shores.
 "We have shown that we can defend our borders and, when necessary, we will also show that we can block European budgets and activities as long as Europe and some individual countries continue to jerk the Italian people around," the Deputy Prime Minister said this week. Similar comments were made by Salvini's counterpart and leader of the Five Star ovement Luigi di Maio last summer, who threatened to withhold Italy's contribution to Brussels if the EU didn't provide assistance to Italy with regards to the frequent arrival of immigrants.
 On Saturday, Salvini accused Malta of giving petrol and a compass to a boat of migrants, before directing them towards the Italian island of Lampedusa. "Malta are helping immigrants come to Italy," he said in dismay.
 Malta's Minister for Home Affairs and National Security said on Twitter "Stop this game Matteo Salvini. Stop criticising Malta for doing its duties and start taking note of what Italy should do better to give priority and care to the safety of life at sea and to abide by international obligations," in response to Salvini's remarks.