Multiple injuries as Rome metro escalator collapses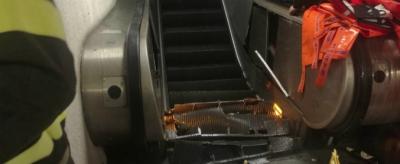 ROME - An escalator collapsed at Rome's Repubblica metro station, injuring 24 people, one of whom had a foot amputated. The escalator's pace shot up at a terrifying rate, sending dozens of people, many of whom CSKA Moscow fans, crashing into one another at the bottom. Many people, unable to jump onto the banister to their left, ended up being trapped in the mangled escalator steps. Witnesses have attributed the incident to fans' inappropriate behaviour on the escalator, while fans have contested it was due to a mechanical glitch.
 The fans were returning from Rome's Olympic Stadium on Tuesday evening after watching CSKA Moscow's Champions League match against Roma. According to witnesses, they were shouting chants, dancing and jumping as the escalator gave way. In response to this affirmation, a 28-year-old Russian man said, "we weren't jumping," in broken English, and showed journalists a video he had taken of the incident on his phone.
 According to most recent reports, 24 people have been injured, among whom one person has had a foot amputated. Seven of the injuries have been declared 'Code Red', meaning they are regarded as severe. Four teenagers have also been taken to hospital. 
 An investigation has been launched by the Rome Public Proscure's Office to ascertain the cause of the incident. Technical irregularities will be examined, as well as fans' behaviour on the escalator. Video footage collected by CCTV cameras will be analysed, while technicians will look into details of the escalator's last maintenance test. ATAC have also opened an investigation into the cause of the incident.
 "Witnesses were apparently jumping and dancing on the escalator," Rome mayor Virginia Raggi said upon her arrival at Piazza Repubblica. "We're here to understand what happened, and to help the injured and their families."
 Firefighters, police officers, doctors and members of the army came to help. "There were beer bottles and shards of glass everywhere," described one of the rescuers. Police have cornered off the area to examine the incident in further detail, and the metro station has been closed.
 Yet the escalator incident wasn't the only disturbance to have been caused by CSKA fans on Tuesday evening. One person was stabbed and two seriously bruised near Ponte Duca d'Aosta, close to the stadium. Another fan was arrested for having participated in a fight in a bar near the city centre.
 Security measures had been put in place in anticipation of the 1,500 Russian fans' arrival, above all to control the amount of alcohol being consumed. Authorities had described the fans as "dangerous", and employed over 1500 people to survey the surrounding area. 
 fh