Russian Orthodox member accuses US of Church intrusion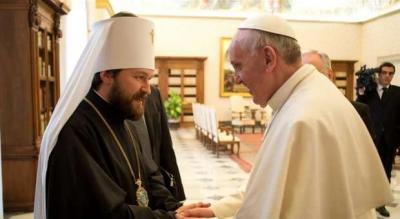 VATICAN CITY – On a visit to the Vatican, the number two cleric in the Russian Orthodox Church, Metropolitan Hilarion, has accused the United States of engineering the independence of the Ukrainian subsect of the Church, Il Messaggero reports.
 Last week the Ecumenical Patriarchate of Constantinople, lead by Patriarch Bartholomew I, who is considered the leader of the Orthodox movement, agreed to grant "autocephaly" to the Ukrainian Orthodox Church, a decision which Moscow branded "catastrophic". Hilarion has echoed this criticism, calling it an "act of banditry," but most importantly claiming that the U.S. had influence over the decision.
 "America is clearly interested not just in weakening Russia but also the Russian Orthodox Church," the Metropolitan of Volokolamsk said, "and therefore we do not doubt that the United States are behind the action of the Patriarchate of Constantinople."
 Reports in the Russian media have suggested that a large amount of U.S. funding brought about the decision from Constantinople. Figures in the region of 25 million dollars have been suggested, but all claims of this nature are currently unconfirmed. While refusing to be drawn on the validity of the reports, Hilarion did reference the independence granted to the Church of Poland in 1924, for which Constantinople was payed "13,000 pounds…a very high sum for the time."  
 Whether achieved through the transfer of money or not, Hilarion and the Russian Orthodox Church remain convinced of America's involvement. "Among other things," he said, "the acceleration with which this has been achieved is proof," adding that "serious pressure" was used to order the actions.  
 As chairman of the Department of External Church Relations, Hilarion has made a visit to the Vatican to meet with Pope Francis in order to discuss the situation of the Catholic Church. "Of course, this time we will have to talk about the situation that has arisen," Hilarion said, but refused to divulge other details of what will be discussed, Il Messaggero reports. The likelihood of the pope involving himself in the Ukraine matter, however, seems small, as Hilarion added, "we certainly do not expect actions or intrusions on his part."