Italy into Volleyball World Champs final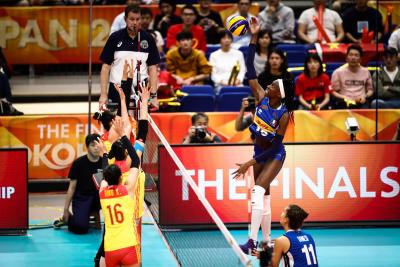 ROME – Pundits payed tribute to the Italian women's volleyball team on Friday after they finally saw off the challenge of opponents China in a gruelling two hour contest to reach the final of the World Championships in Japan.
 In front of a heavily partisan crowd, the 'Azzurri' showed no signs of pressure, executing a perfect first set to take a 1-0 lead. China quickly rallied and took the second, before Italy reinstated their advantage with a comfortable 25-16 third set win. Just needing one more for victory, the fourth was incredibly tight, with neither team able to dominate. Eventually China prevailed saving a match point and sneaking it 32-30 to level the match.
 The first-to-15 decider was equally as tense, as Italy were pegged back from 14-12 to 14 apiece, wasting two more match points. Another came and went for the 'Azzurri' at 15-14, before star player Paola Egonu brought her team home with two successive point-winning spikes in the tie-break. Egonu scored an incredible 44 points in Italy's victory, completely overshadowing China's top scorer Zhu Ting, who recorded 26.
 In their first final in 16 years, the Italians face a Serbian side who have been dominant throughout the competition. In the third round of group stages, Italy were overwhelmed by the Serbs, comfortably losing 3-1. Such an closely-fought victory against China in the Semis will, however, give them a great deal of confidence going into Saturday's final.