Would-be Lega representative in mass drug arrest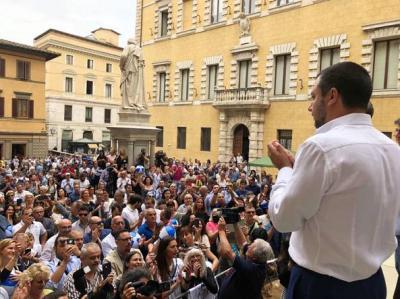 NAPLES – As many as 72 alleged mafia members were arrested this week for a list of drug offences in the region of Naples, including one who was in the stages of becoming a representative of Lega, police said on Thursday.
Prosecutors have alleged that the suspects are members of various Naples-based mafia clans and were involved in the production, trafficking, possession and sale of drugs. As the name of the operation, 'Whitestone', would suggest, the main drug in question was cocaine, along with its crystal form crack.
Interior Minister and Federal Secretary of Lega Nord Matteo Salvini thanked the police for their work in arresting the "sellers of death", unaware that Bartolomeo Falco, a would-be Lega representative in southern Italy, was among those taken into custody.
 Following the party's success in the March 4 elections, Lega looked to expand, recruiting "council representatives" across the country, according to an official Lega document, in order to bolster party membership. Falco's name appeared in this document as someone who would be suitable for such a position, Il Fatto reports.
 In the days since Falco's arrest, spokespeople for Lega have been quick to distance themselves from the controversy. A statement from Salvini's party claims that they were "greatly astonished" to discover the connection between Lega and the arrests in Naples, while seeking to clarify that Falco did not hold any official position at the time of his arrest. "The person in question…had been identified by the provincial secretary and announced in the press as a possible representative for the territory, but no appointment was entrusted to him," the statement reads, going on to re-emphasise that "the position was never ratified."
 Despite Lega's statements throwing up smoke over the matter, however, the party documents indicate that Falco was indeed to be given an official position. The party, along with Salvini, will count themselves very luck that his ratification was delayed, thus avoiding having a "seller of death" in the ranks of a party that wishes to continue its expansion.
pm