Auction of Italian art 'threatens national heritage'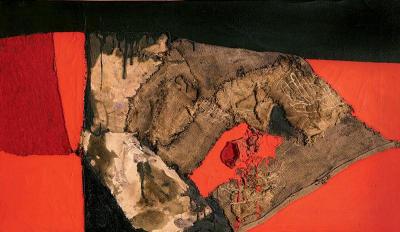 Burri's Sacco Nero Rosso, sold for 1,116,500 euros
ROME - The age-old concern that Italy's historic and artistic heritage is under threat has been unearthed once more, as two works by the esteemed Alberto Burri were recently sold at a London auction. 
 This isn't the first time Italy has lost celebrated works to foreign competitors. For centuries, the acquisition of Italian art has been a priority for investors, aristocrats and collectors worldwide.
 In as far back as 1753, Raffael's La Madonna Sistena was sold to Augustus III of Sassonia. It was subsequently transported from Piacenza, where it was being conserved by San Sisto monks, to Dresden. A century later, art critic Giovanni Morelli sarcastically announced, "the people of Piacenza have the vile greed of the Benedictines to thank for this," insinuating that the decision to sell on the masterpiece was purely money-driven.
 Then in 1934 came a royal decree abolishing the law that all collections should remain intact in Italy. The Fascist regime subsequently sold on Caravaggio's Santa Caterina, which can now be found in the Collezione Thyssen in Madrid, and Nicolas Poussin's La Morte di Germanico.
 Some years later, works from Contini Bonacossi's collection were sold on to other countries, including Francesco de Zurbarán's acclaimed masterpiece La Natura Morta. The decision to send the work to the Norton Simon Museum of Pasadena in California, was, according to art historian Frederico Zeri, "a colossal error."
 Due to exportation offices' limited means and numbers of staff, exportation licenses have been granted for no logical reason. A sixth century work from Bologna by Simone dei Crocifissi was exported to Vienna on dubious grounds. Similarly, in 1996 an aristocratic family was tried for exporting one of Pantormo's bronze masterpieces, only to be acquitted. It transpired they had in fact obtained a license, though on a somewhat tenuous basis.
 The upheaval caused by the selling of François Gérard's portrait of Prince Camillo Borghese to the Frick Collection in New York was a telling indicator of Italians' determination to maintain their artistic heritage. The Italian government revoked the export license granted for the work, since according to Maria Vittoria Marini Clarelli, they belatedly realised, "the importance of the painting for national patrimony as a rare and significant document of the Napoleonic era in Italy."
 Earlier this week, an inspection of the Soprintendenza Archeologia Belle Arti e Paesaggio's collection in Milan took place. It was reportedly prompted due to concerns raised by the auction of Burri's works. It seems the risk of losing any more art, precious to the country's heritage and culture, is one Italians are no longer prepared to take.
 fh
Burri's Rosso Plastica, sold for 511,900 euros