FAO chief admits agency in 'cash crisis'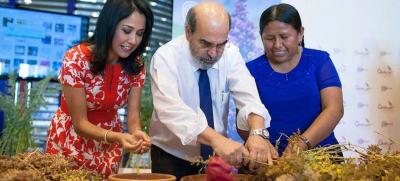 FAO DG Jose Graziano da Silva and Peruvian former first lady Nadine Heredia Photo credit: FAO/Giuseppe Carotenuto
 ROME – The FAO Director General, José Graziano da Silva, has conceded that the UN agency is in a 'cash crisis' due to late contributions payment by member countries though he stopped short of disclosing that his own country, Brazil, is one of the main culprits, along with the United States.
 "We are now in the midst of a cash crisis at FAO due to delayed payment of Regular Programme contributions by member countries," the bearded agronomist wrote in a letter to staff.  "As of today, member countries owe us a total of USD 283 million, with 77 percent of this due from the top five debtor members.  Our cash flow projections indicate that, as things stand, we will need to resort to external borrowing by year-end, or early in 2019, to sustain our minimum monthly operating expenses of USD 45 million, including for payment of salaries."
Senor Graziano added that "worse still, and in a manner unprecedented in recent years, some major contributors have changed their normal pattern of payment, leading to uncertainty in when significant payments may be expected.  This in turn makes it harder to borrow from external lenders, who require guarantees for lending in the form of predictable future cash receipts."
 Italian Insider disclosed earlier this month that Brazil's current government and Washington have delayed making payments to the Rome-based hunger-fighting agency, meaning long delays in payments of consultants.
 Graziano said that "we need to curtail and slow down budgetary expenditure at least until the end of 2018.  As agreed at the Policy and Programmes Board (PPB) last week, this means the postponement or suspension of travel and meetings, as well as recruitment of consultants, other than those of critical need for the Organization. In addition, while we will continue the process of recruitment of staff members, appointments to vacant positions are not expected to be effected until 2019.  Managers across the Organization are responsible for overseeing this expenditure slow down, with corporate support from the Office for Strategy, Planning and Resources Management (OSP)."
jp