'Bridges of peace' event launched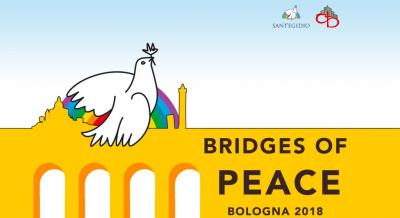 BOLOGNA – A conference focused on discussions promoting peace opened on Sunday afternoon in Bologna.
 The 12th edition of the event has been organised and put on by the Sant'Egidio organisation, with collaboration from the Archdiocese of Bologna.
 Hundreds of spiritual leaders from around the world are convening in the Italian city to partake in various panels and discussions, all designed to promote the idea of peace. The establishment of cross-cultural and multi-faith connections is seen as particularly important in achieving this goal.
 Event organisers are hoping to harness the 'Spirit of Assisi' throughout the three days, referencing an interfaith peace gathering in the city of Assisi, Italy coordinated by Pope John Paul II in 1986.
 Topics for discussion across the 34 different panels include John Paul II's promotion of peace, Christians and the Middle East, and recently canonised Salvadoran martyr Oscar Romero, who was killed in 1980 for advocating peace during fierce violence between leftist revolutionaries and the Salvadoran government.
 The event will conclude on Tuesday evening at Bologna's Piazza Maggiore with a lighting of the candelabras, before the invited guests and public share a sign of peace, encapsulating the aim of the whole event.
pm