Pope Francis canonises murdered archbishop Romero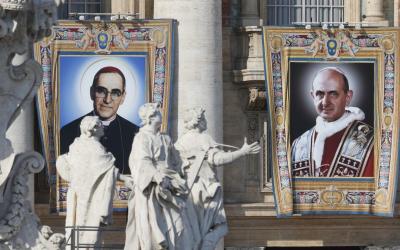 VATICAN CITY – In a ceremony on Sunday at the Vatican, Salvadoran archbishop Oscar Romero was elevated to sainthood, along with Pope Paul VI and five others by Pope Francis
 "We declare and define Paul VI and Óscar Arnulfo Romero Galdámez... to be saints and we enrol them among the saints, decreeing that they are to be venerated as such by the whole church," the pontiff said at the ceremony.
 Francis wore the blood-stained belt taken from Romero's body following his murder and used Pope Paul VI's chalice and pastoral staff during the service.
 The archbishop was killed by soldiers as he conducted Mass in 1980, just a day after he spoke out against the violence being employed by the Salvadoran army as a means of quashing leftist revolutionaries. "I implore you, I beg you, I order you in the name of God: stop the repression," were his rousing words to the National Guard, words that led to his murder.
 Francis praised Romero in Sunday's ceremony, lauding the sacrifice of his own safety to be "close to the poor and to his people." Both Romero and Paul VI had previously been beatified, in 2015 and 2014 respectively.
 Alongside the two men, five other Catholic figures were canonised during the service. Francesco Spinelli, Mother Maria Caterina Kasper, Mother Nazaria Ignazia March Mesa, Vincenzo Romano and Nunzio Sulprizio were all enrolled among the saints.
 Portraits of each of the seven figures were displayed on St. Peters Basilica in the build up to, and throughout the service. The ceremony was attended by thousands, including around 5,000 Salvadorans, in honour of Romero.