Pope launches attack on abortion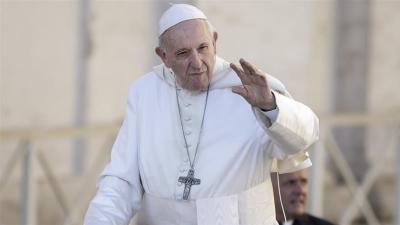 VATICAN CITY - Pope Francis compared abortion to "hiring a hitman to solve a problem," when addressing his weekly audience at St. Peter's Square on Wednesday.
 "Interrupting a pregnancy is like eliminating someone," he declared, adding that "a contradictory approach to life allows the suppression of human life in the mother's womb in order to safeguard other values."
 He went on to pose the question, "How can an act that suppresses innocent and defenceless life as it blossoms be therapeutic, civil or simply human?"
 Although Francis has been known to denounce abortion – in June, he called pre-natal testing the "white glove" equivalent of the Nazi-era eugenics program – the remarks he made today are undoubtedly his most critical of the procedure yet.
 They may perhaps come as a surprise, since shortly after being elected as pontiff in 2013, he called for the Catholic church to soften its stance on abortion, and instead develop "compassion and mercy." He has acknowledged that circumstantial reasons often drive women to abort their pregnancies, and has allowed ordinary priests to absolve them of the sin of abortion if they repent.
 His critical comments come amid an attempt among far-right politicians to curb or ban abortion in Italy. Verona's town council, led by the League, defied Italy's abortion law and declared itself a "pro-life city" last week. They have demanded funding for anti-abortion groups and have called for the council to urge pregnant women to give unplanned babies up to adoption.
 Much attention has been drawn to Catholic teaching on abortion as of late, especially given the controversial confirmation of Supreme Court Justice Brett Kavanaugh, a Jesuit-educated Catholic whose vote could overturn legalised abortion in the U.S.
 Abortions remain somewhat uncommon in Italy. This is in part due to the law clause that permits medical staff to refuse to carry out abortions for religious or personal reasons. Health ministry data collected in 2016 revealed that over 70% of Italian gynaecologists refused to terminate pregnancies. Although the Health Ministry has claimed the increase in medical objectors isn't affecting women in crisis pregnancies, many campaigners have stated that it is pushing women to resort to illegal, unsafe abortions. In light of this, the significance of the pope's comments today must not be underestimated. 
 fh