Fight against time to contain oil spill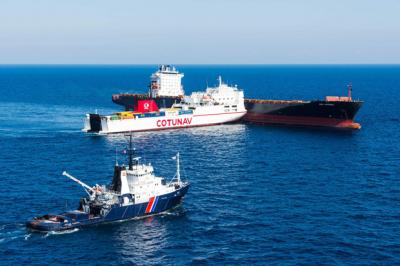 ROME - Italian and French civil military teams are working against the clock to contain a fuel spill. The collision between a Tunisian freighter and a Cyprus-based vessel occurred early Sunday morning, resulting in an oil leakage that spread some 27 kilometres into the Cetacean Sanctuary.
 The incident took place in the Tyrrhenian Sea off the coast of northern Corsica, in French territorial waters just 14 miles from the Cap Corse. The Cypriot ship's hull was pierced and at least one fuel tank began to leak into the sea. The fuel's leakage into the Cetacean Sanctuary, a marine protected area where according to Greenpeace "both fin and sperm whales have been spotted," has prompted much concern.
 Although French authorities have claimed that the spill is under control, the Italian Institute for Environmental Protection and Research (Ispra) has stated otherwise. They have warned that a swell will result in the disappearance of the slick below sea level. This seems likely given the bad weather conditions that have been predicted for the next few days. It will not only make containment of the poisonous substances more difficult, but will also increase the likelihood that plant and animal populations will come into contact with the fuel.
 A member of Ispra has announced, "as long as marine weather conditions remain calm, the oil will continue to float along a straight line in the direction of the current." Such conditions will make it easier for the oil to be contained.
 "However, in the event that marine weather conditions worsen, as has recently been predicted, the large swell will make it difficult to recuperate the fuel," warns Ispra. "The fuel will be contaminated with water droplets, making it imperceptible to detection systems. It will only appear when in close proximity to the coast."
 France and Italy have so far successfully contained the slick. According to French Minister of Ecology François de Rugy, they have been pumping it to prevent its dispersion, while the Italian coastguard has been monitoring the area with aircrafts and marines.
 A criminal investigation has been launched into the incident, and Corsica leader Gilles Simeoni has said he is determined to uncover its cause. However, deeper concerns have since been raised. The mayor of La Maddalena, Luca Montella, has stated that the problem is not only the use of tankers, but that of any large boats: "We simply cannot allow a spillage on such a large scale to take place again."
 fh