Guardiola, Ancelloti among guests at Festival of Sport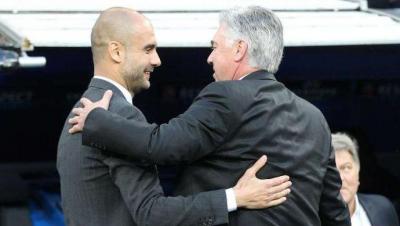 ROME – An array of sporting stars will feature at Trento's Festival of Sport later this week.
 Spread over four days, the festival is presenting over one hundred events, from interviews with some of the biggest names in sport, to training sessions for athletics, volleyball and cycling, to name a few.
 The theme for 2018 has been agreed upon by organisers as 'Il Record', examining what it takes for sportspeople to reach the very top of their respective fields.
 A host of stars from Italy and around the world have been invited to take part and provide insight about their careers, discussing what made them so successful, in front of auditoriums in Trento.
 The story of Inter Milan's legendary 2010 treble-winning team will be presented, including an appearance from club icon Javier Zanetti, now Vice-President of the Milan team. Zanetti captained his side to victory in the Serie A, Coppa Italia and Champions League in the same season, a spectacular achievement from a squad that "will go down in footballing history," according to the festival's website.
 Queen of Italian swimming, Federica Pellegrini, will appear in a face-to-face interview on Sunday to shed light on her sparkling career. Spanning 15 years, the swimmer spearheaded Italy's success in the pool, winning five world championship, and one Olympic, gold. Five of these golds were won in a three-year period, during which she stormed the 200m freestyle in Beijing, before winning back-to-back 200m and 400m doubles at the following two world championships. She still holds the world record on the 200m, setting a time 1:52:98 to win the 2009 worlds.
 Foreign cycling stars Alberto Contador and Bradley Wiggins will make appearances at separate events at the festival. Both recently retired Grand Tour winners, they proved themselves on the biggest stages in their sport. Wiggins, in particular, has tasted success in all aspects of cycling, winning numerous Olympic medals on the track, then moving onto the road with his 2012 Tour de France, before breaking the hour record back on the track in 2014.
 High-profile football managers are also set to take part in discussions about the game. Napoli and Manchester City managers, Carlo Ancelotti and Pep Guardiola, join long-time servant of Italian football Arrigo Sacchi on a panel to give their thoughts on the beauty of football. Sacchi was involved in management for over 40 years, ending his career with the Italian national team, and is fondly remembered for his AC Milan side from 1988-90, who won back-to-back European Championships, playing silky football. Guardiola's tiki-taka style has revolutionised modern football and was the hallmark of his success at Barcelona, with whom he won La Liga, the Copa del Rey and the Champions League in 2009. The three managers will discuss how football has developed over the years, as well as give insight into their own managerial philosophies.
 A great number of other sporting icons, from Italy and elsewhere, will be present at the Festival of Sport, which opens in Trento on Oct. 11, finishing on Oct. 14.