World Champs brings volleyball fever to Turin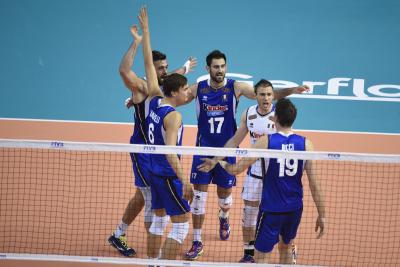 TURIN – On Wednesday night, as Torino FC travelled to Atalanta for a Serie A clash, Turin were graced with another sporting spectacle. Just metres away from the Stadio Olimpico, home of the football club, Italy's volleyball stars were taking to the court in the PalaAlpitour.
 The arena hosts the first of Pool I and J's matches in this year's World Volleyball Championships. Having started their campaign on Sept. 9, the Azzurri have reached the Final Six, topping their groups in each of the first two rounds. Split into two pools of three, a round-robin format will determine the semi-finalists.
 As expected at this late stage in the competition, the standard is incredibly high. Italy face a strong Serbian line-up in the first fixture, and are also joined by Poland in Pool J, whom they play on Friday evening.
 Captain Ivan Zaystev, formerly of Russian nationality, does not seem fazed, explaining to journalists that "to reach the top, you need to play against everyone, and beat everyone." He is, however, wary of underestimating any opponent and is very aware of the challenge Serbia will present. Italy manager Gianlorenzo Blengini points out that the Serbian squad is full of players from the Italian Super League, which, in his eyes, will make the contest "very balanced, and very competitive".
 Potential semi-final opponents from Pool I include current Olympic Champions Brazil, who face Russia just a few hours before Italy's game. 'Bruninho', their captain, also recognises how hard they will have to fight – "at this stage it's difficult to determine which opponent might be better".
 Making up this group are the Americans, who have somewhat of a point to prove, according to captain Taylor Sanders. "At the last World Championships, we didn't qualify for the Final Six," he explains, "but we've learned a lot and we're ready to face the best teams in the world".
 Each team faces stiff competition to make it to the final four, with a chance to play for a place in the World Championships final. The Italians will hope that home comforts bring some sort of advantage, as the whole of Turin rallies in support of the Azzurri.
pm