FAO DG launches second libel suit against Insider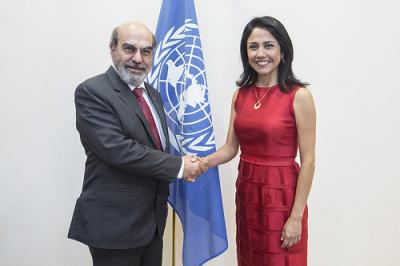 FAO DG Jose Graziano da Silva and Peruvian former first lady Nadine Heredia
 ROME – FAO Director General Jose Graziano da Silva is sueing the Italian Insider newspaper for a second time, claiming that articles about his appointment of Peruvian former first lady Nadine Heredia to the UN agency were criminally defamatory even though the Italian prosecutor examining his claims recommended they be archived, judicial officials say-
 A second criminal defamation trail against Italian Insider chief editor John Phillips will be held in Rome in February, just a few weeks after the next hearing scheduled Jan.15 in the ongoing trial of the British journalist examining claims by the FAO supremo and four of his top sidekicks all arguing they were defamed criminally by Italian Insider's investigative reporting.
 After Graziano filed suits claiming the articles about the FAO and Ms Heredia were defamatory, an investigating magistrate examined the claims and recommended that the case not go to trial but should be archived. Graziano's lawyers appealed the decision, however, meaning that a second trial will be held.
 All the articles about the Heredia affair in the Insider were based on articles in print in the Peruvian and other latin American media. Graziano appointed Heredia to be head of the UN liason office in Geneva despite her being under investigation in her homeland for alleged massive money laundering and corruption.
 She resigned from the position within months as Peruvian magistrates made it clear they would not allow her to reside abroad with returning regularly to Peru amid concern that the appointment was designed to allow Ms Heredia to escape being arrested and jailed.
 The couple were jailed subsequently in preventive detention then subsequently released.
 Reporters without Borders has condemned what it tems the "disproportionate" reaction by the FAO to the Italian Insider articles, saying it clearly shows Graziano wants to prevent the Insider publishing. Many legal experts believe that a UN agency sueing a newspaper is against the UN charter, which upholds freedom of the press. 
 The Insider has launched a Gofund appeal to help cover its legal costs in the court battle and urges readers to renew their support in the face of the new attempt to silence reporting of the UN agencies https://www.gofundme.com/italian-insider-legal-defense-fund.
 jp