Emotional funeral for British choreographer Lindsay Kemp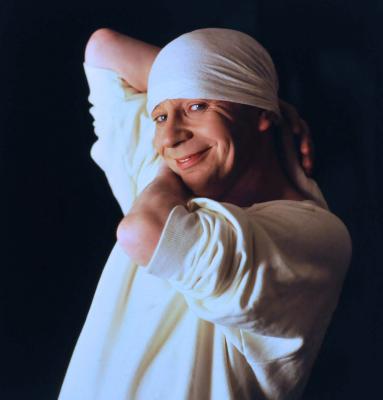 Photo Credit: Chris Warde-Jones
 The words 'miraculous' and 'wonderful' are not the first that come to mind when speaking of death. But that's how actor David Haughton has described the final curtain call of his close friend and collaborator, British choreographer Lindsay Kemp, who mentored artists as diverse as David Bowie and Kate Bush.  
 Haughton takes solace in the knowledge the flamboyant mime artist, who died suddenly at his home in Livorno, aged 80, did not suffer in his final moments.
 "The day he died he was working, dancing in the afternoon, rehearsing, and fortunately he was very happy, very positive," Haughton, who worked with the multi-talented artist for 45 years, told The Italian Insider. "And he was blessed by this extraordinarily sudden death, which was painless, instantaneous … no disease leading up to it, so that was miraculous, that was wonderful."
 Having had the "good fortune" of an impromptu, abrupt exit, it was up to Haughton to choreograph Kemp's final farewell.
 The celebration of the dancer's life was staged at Rome's Cimitero Acattolico – also known as the Protestant Cemetery – where the remains of the English Romantic poets John Keats and Percy Shelley, among others, were laid to rest.
Poignantly, it is also the final resting place of Kemp's mother Marie.
 "It was he and his mother against the world," Haughton said of the bond they shared before she died in 1991. It was Kemp's wish to be buried beside her.
 Born in Wirral, Merseyside, in May 1938, Kemp and his mother moved to South Shields in County Durham after his father Norman, a merchant seaman, was lost at sea in 1940. 
 Kemp's sister Norma – who had a natural aptitude for tap dance – died of meningitis at the age of five, before he was born. Despite sharing Norma's innate talent for dance, his mother encouraged him to follow in his father's footsteps. But he had other plans.
 In 1960, he made his London West End debut in the chorus line of the musical 'Joie de Vivre.' Soon after he studied the art of mime with French actor and mime artist Marcel Marceau.
 Kemp met rock superstar David Bowie in 1966. After a brief affair, they continued to work together, with Kemp helping to shape Bowie's 'Ziggy Stardust' persona.
 Kemp's show 'Flowers', which was loosely inspired by Jean Genet's novel 'Our Lady of the Flowers,' debuted at the Edinburgh Festival in 1969. By the mid 1970s, its success catapulted him onto the international stage. 
 It was after seeing 'Flowers' at London's Roundhouse in 1977 that unknown singer-songwriter Kate Bush immediately signed up for lessons with Kemp.
 Helping to bring the 'timid' and 'waiflike' Bush out of her shell, Kemp believed she was another penniless artist and gave her a job in wardrobe. 
 Bush, who was already signed to record label EMI, "came backstage to help sew sequins on costumes or go out to get coffees," Haughton recalls.
 The following year she shot to number one on the UK charts with her debut single, 'Wuthering Heights.'
 Kemp left England for Spain in 1979 before later settling in Italy.
 In a 2016 interview, Kemp said he'd always felt like a foreigner in his home country.
 "They didn't really like arty types in England, certainly not when I was growing up in the 1950s. So I felt a bit of a loner," he was quoted as telling the Guardian.
 "There was just something about my persona that people thought was rather alien."
According to Haughton, the performance artist felt more at home in Spain and Italy because those countries "don't have the British embarrassment about showing emotion."
  "In Spain and Italy he was revered and had had just a deep emotional following, and even critics were deeply respectful," Haughton added.
"He always said 'I'm a dancer,' in the same way Bob Dylan said he was a dancer. So he didn't mean in a literal sense.
"He meant living as though one was living freely, living things to the hilt," Haughton said, "which he really did, so he didn't have a big division between his life and his art."
Lindsay Kemp: Born May 3, 1938. Died: Aug. 24, 2018.
David Haughton with mourners at Lindsay Kemp's funeral Photo credit: Chris Warde-Jones
Mourners celebrate Kemp's life by reenacting his signature end of show farewell Photo credit: Chris Warde-Jones