AWOL migrants infuriate Salvini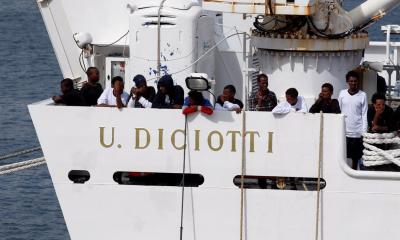 Photograph: Antonio Parrinello/Reuters
ROME – More than 50 migrants last month rescued from the Mediterranean Sea have disappeared from reception centres, Interior Minister Matteo Salvini said on Wednesday.
 They "were so in need of protection, board and lodging that they decided to leave and disappear", Salvini said on Facebook.
 "It is the umpteenth confirmation that not all those who arrive in Italy are 'skeletons that escape from war and hunger'", he added.
 According to the Interior Ministry, around 50 of 144 migrants, allowed into Italy after being picked up by the Diciotti coastguard ship, began disappearing from various Caritas reception centres from August 31.
 Caritas Italian, which confirms the incident, stressed "it was a voluntary departure, not an escape".
 "You flee from a state of detention and this is not the case, nobody wants to stay in Italy, you know," Cartias Director Don Francesco Soddu said.
 Salvini, who initially refused to allow the ship to dock in an Italian port, has vowed to tighten migration laws, "I will work even harder to change wrong laws and cancel arrivals," he said.