Stun gun trials start this week in 12 cities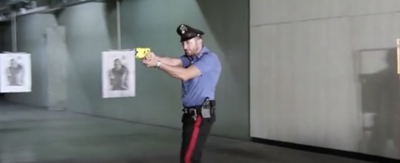 ROME – Tasers went into service this week as part of Salvini's "get tough" law and order policy - a dated and inefficient model was chosen without a competitive tender, official sources said on Thursday.
 Today marks the beginning of the trial period for 70 agents in 12 cities armed with stun guns. Italy's interior minister Matteo Salvini signed off on the training and trial period in July. The model chosen (TaserX2) is inefficient, costly and outdated, official sources said.
 The introduction of stun guns has split public opinion. Italy, over the last two decades, has had history of police abusing their power. Unresolved matters like the events of Genova's G8 and the Uva, Aldobrandi and Cucchi cases have heavily exposed Italians to episodes of abusive power. The Laws on Public Security and Safety rank stun guns as "own weapons" while the United Nations and Amnesty International classify them as torture devices. Potential health risks associated with the use of tasers on medically fragile individuals was highlighted in a police report on the TaserX2 model.
 Device manufacturer Axon (formally Taser International) also produces body cameras as an additional option to guarantee further security to agents and citizens. The taseX2 model trials won't be complemented with a body camera, only an airline style black box. Axon said, "The Axon cameras allow a reconstruction of events between involved parties … 36 cities in the United States are using body cameras and have registered an 88 per cent reduction in complaints."
Sanctions may be faced by Italian interior ministry for not organizing a competitive tender.  The current contract with Axon consists of free devices for the trial period of three months. Following the trials, the devices will be purchased for a three-month period subject to renewal.
 Police trade union head Stefano Paoloni said, "The risk is always the same. The project may collapse as has happened with iPads, pepper sprays and geolocation devices in the past."
 gb