Priest proposes bridal décolletage tax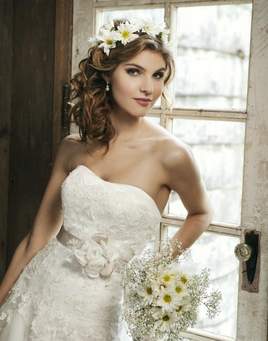 ROME – A parish priest in the Veneto region has raised eyebrows with a proposal to tax the neckline of wedding dresses.
 Don Cristiano Bobbo, who heads the parishes of Oriago and Ca 'Sabbioni in the Venice province, advanced his idea of penalising brides who bare more skin, in the parish bulletin Una voce nella Riviera.
 According to the priest, the lower the neckline, the larger the financial contribution to the church for wedding ceremony services. 
 The Venetian religious weekly Gente Veneta also weighed in on Don Bobbo's proposed tax on scantily clad brides - 
 "It could be the rule implemented during wedding ceremonies. 
 "Don Bobbo states it provocatively, revealing the frequency with which wedding dresses 'are presented in a bold and vulgar manner, inappropriate for the circumstance.'"
 The parish priest also described a country where it was customary to offer the marriage celebrant a donation commensurate with the beauty of the bride. 
 For example, if the base rate were 20 euros, some husbands donate 30 while others give 50 for the service.
  "If the bride was really beautiful then you would need a good hundred!," Don Bobbo wrote.
  He went on to recount the story of a groom who offered a miserly 10 euros when he married an allegedly ugly woman.
 The priest took the offer and said - "Wait, I'll give you five euros change. What's right is right."
 On a more serious note, Don Bobbo went on to say how significant it would be if brides understood the delicacy, poetry and freshness of the moment they are living, through the simplicity and good taste of their garments.
 "There is a style of dignity and reserve that must be regained; there is a respect for others that is at the base of a serious and serene social life. It can even be repeated with the choice of dress in a circumstance of life destined to remain unforgettable," he said.
 cc