Renzi's parents await trial over fake invoices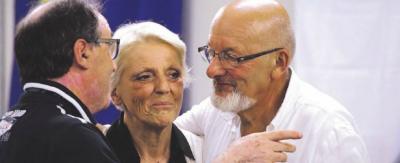 FLORENCE - The parents of former Italian prime minister Matteo Renzi are awaiting trial as investigation continues on charges of issuing fake invoices, officials said on Wednesday.
 Two invoices worth 20,000 and 140,000 euros regarding works commissioned to a building company are said to have been fake.
 Luigi Dagostino, the chief of the commissioned firm Tramor, is also under investigation. The hearing will be held on March 2 2019, a year from the elections that put Renzi's party out of power.
 Tiziano Renzi and his wife Laura Bovoli are awaiting trial for issuing two fake invoices whilst D'Agostino, unlike the Renzi couple, is also under investigation for a scam offence. This follows his arrest on June 18 following another investigation involving fake invoices.
 Information from phone-tapping has revealed Dagostino, who was at the time chief of Tramor, arguing with the architect Alberto Ortone on the value of the job he should have paid to the Renzi controlled company "Eventi 6". "The job is only 50 or 60 thousand euros worth, if you ask for 130 and are the father of the prime minister I cannot possibly start arguing with you."
 The invoices, according to prosecutors Christine Van Borries and Luca Turco, were paid without any work being carried out. The invoices were issued for the construction of a bar within the luxury shopping mall complex "The Mall" located in Regello, a few kilometres from Renzi's home town, Rignano sull'Arno.
 Renzi's lawyer, Federico Bagattini, took a strong stance against the media coverage. "We want to defend ourselves in court without being trialled on newspapers," he said, adding that "the invoices have been regularly paid and the project Tiziano Renzi has been paid for is underway."
 The phone tapping uncovers how Dagostino was put under pressure to meet the demands of Tiziano Renzi regarding the invoiced sum, judicial sources suggest. "Can I really bargain on the price?" Dagostino is reported to have said over the phone. Tramor is now restructuring its finances – the invoices have been taken off balance sheets and sanctions have been paid.
 gb