Dozens killed as fighting rages in Libyan capital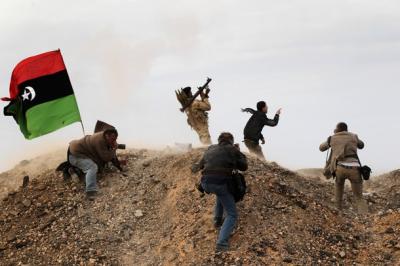 TRIPOLI - Rebel troops loyal to renegade general Khalifa Haftar launched an assault on Libyan capital on Monday to try and oust the Italian and UN-backed government of Fayez al Sarraj, leaving over 200 dead, military sources said on Monday.
 Al Sarraj's UN backed government has declared a state of emergency in the capital and its outskirts following days of fighting between armed groups and an increasing death toll. Clashes first erupted a week ago between the "Seventh Brigade" of general Haftar and the central security. "Violent confrontations between the 7th Brigade and Central Security" are taking place in the Abu Salim area, tweet by Al Ahrar citing security sources. The conflict is between rebel militia attacking Tripoli and a "Ghenewa" group battling them just six kilometres from the centre of Tripoli.
 According to military sources, this week's conflict has left 200 dead and plenty injured.  The Libyan ministry of health declared 47 dead and 129 wounded. The rebels' objective according to sources close to Il Fatto Quotidiano "is to interrupt the pacific process of political transition, eliminating national and international efforts to reach stability in the country." Around 400 prisoners are reported to have escaped a prison in Ain Zara. Many of them are said to be supporters of the ex-Libyan leader Muammar Gheddafi.
 While the prime minister Al Sarraj spent his Sunday locked up in a maximum security naval base, the Farnesina, Italy's Ministry of Foreign Affairs has evacuated part of its embassy personnel. Despite this the Farnesina declared that "our embassy remains open", although now "with higher flexibility."
 "The Governments of France, Italy, the United Kingdom, and the United States strongly condemn the continued escalation of violence in and around Tripoli that has caused many casualties and continues to endanger the lives of innocent civilians. We reiterate that the targeting of civilians and indiscriminate attacks are prohibited under International Humanitarian Law,"the Farnesina released in a joint press statement on Saturday.
 The European Commission in a statement condemned the escalation of violence highlighting that the EU "endorses the inclusive process of mediation forwarded by the UN." On Sunday evening a spokesperson for the 7th Brigade announced the rebels' control of strategic locations towards the airport. Tripoli's airport has been closed since Saturday following a rebel air strike.
 gb