Exclusive: Bird-loving CRS honcho 'risks staff lives'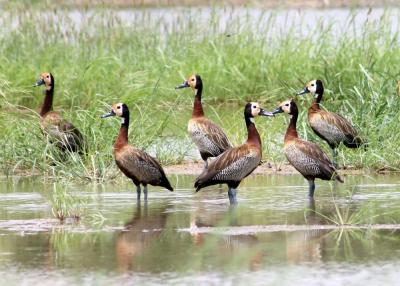 White-faced whistling ducks in Sudan
ROME – Local staff at the Catholic Relief Services in Sudan are increasingly concerned about being obliged to undertake birdwatching excursions into dangerous war zones with the Vatican-linked charity's flamboyant East Africa regional director, David Orth-Moore, CRS sources say.
  Mr Orth-Moore, a Christian Scientist, has allegedly been using staff time and vehicles to go on trips with drivers to remote locations in pursuit of his hobby of birdwatching. This apparently has been a habit of his for the past nine years meaning that in total consideable resources have been diverted to a private pastime.
 A CRS consultant in South Sudan, John Ashworth, also is a keen birdwatcher and equally may have been using CRS resources in pursuit of the feathered friends, the sources told Italian Insider.
 A CRS spokesman, Kim Pozinak, told the Insider the NGO is not concerned about the use of the staff and vehicles for ornithology.
"We allow—as a matter of policy—our employees to utilize agency vehicles for personal use as long as they reimburse for the mileage at a fixed rate," Pozniak told the Insider.
" This approach is approved by all our donors, including USG (US Government)."
However Mr Pozniak did not respond when the Insider pointed out that the regional director has been making birdwatching excursions with local staff drivers to areas of south Sidan that are highly dangerous where some CRS staff have been killed in the past and asked if it is not highly irresponsible to put local staff lives at risk for the pursuit of feathered friends.
 Sudan is rich in birdlife and the CRS honcho's sightings include the White-faced Whistling-Duck, the Double-spurred Francolin, the Greater Flamingo, the Lesser Flamingo, the Long-tailed Cormorant and the Great White Pelican.
 The double-barreled ornithologist recently moved his base to Washington but remains a senior advisor for Africa.
 Catholic Relief Services, founded by US Catholic bishops in 1943, describes itself as "a pro-life organization dedicated to preserving the sacredness and dignity of human life from conception to natural death."
 jp