Ostia beach advert parodying mafia attack banned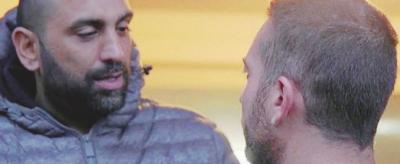 Roberto Spada with reporter Daniele Piervincenzi
ROME – An advert threatening a "head-butting" for citizens that don't come to the beach in Ostia has been banned, authorities said on Thursday, as parodying the well-known mafia attack on a journalist from last November has apparently not amused everyone.
 Many will remember the incident in which clan-member Roberto Spada brutally attacked RAI reporter Piervincenzi during an interview, later receiving a six-year sentence, but few will have expected it to become the topic of an advert drawing citizens to the seaside town.
 Spada lashed out on Nov. 7 after being questioned on his family's alleged link to the Italian hard-right party Casa-Pound, breaking the reporter's nose and attacking his cameraman with a club on his back. The words "come to Ostia or else we'll head-butt you" drew on the incident to form the basis of an advert transmitted hundreds of times via radio and in metro stations, but will be heard no more.
 "This is subtle irony! I don't understand why people don't agree," insisted Ostia's mayor, Giuliana Di Pillo, in response to the controversy sparked by the advert. "It's funny, no? It made me laugh. There was no intention of trivialising a serious episode." If anything, he claimed the intention was "the opposite; we wanted to downplay and at the same time promote the many initiatives that we have ready for the summer. All honest and intelligent people should know how to take this initiative in a positive light."
 Virginia Raggi, Rome's mayor, has in fact not taken the advert in such a light.  "I didn't like it. I don't think this is the right way to speak to citizens on the Roman coast, the vast majority who are honest people. Here at Ostia we have not lowered ourselves to the level of the mafia and nor we will ever."
 After the controversial whirlwind that the advert sparked, the mayor wanted to highlight that "manipulation from those that have done nothing against the mafia underworld" would never be accepted. The mistake should certainly have been avoided, she continued, in light of the storm of political attacks that ensued.
 The president of the regional anti-mafia organisation, Gianpiero Cioffredi, also maintained that the advert was "terrible; the trivialisation of mafia phenomena does nothing to combat their activity nor aid development in Ostia."
 Daniele Piervincenzi, the RAI reporter attacked the past winter, said to be convinced that "Ostia and its citizens do not deserve to be represented by a mafia attack. Seeing as to be beaten up and threatened damages both your body and your dignity, I think this is a topic in which irony doesn't quite work perfectly."
 In agreement is FNSI, the Italian National Press. "It was the wrong choice, in terrible taste, offensive to whoever has suffered violence or whoever is against attempts to pollute and influence civic communities." The head-butt given by the boss Spada, they continue, "has become a symbol of mafia violence and of hostility against free speech."
 cb