Police in Palermo seize ship holding cannabis worth 200 mln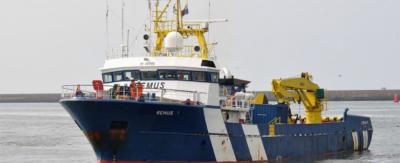 ROME – Customs police in Palermo followed and seized a ship holding around 20 tonnes of cannabis before arresting the entire crew, officials said on Thursday.
 The 'Remus' ship in question was flying the Panama flag and travelling from Palma in Gran Canaria towards Tuzla in Turkey via Alessandria in Egypt. The customs police discovered 20 tonnes of cannabis immersed in thousands of litres of petrol and promptly arrested the entire crew, composed of 11 sailors from Montenegro.
 The merchant ship had been under observation by Italian customs police for some time. The particular route of the ship and the way in was tailed by helicopter and ocean patrol boats drew police's attention. Moreover, suspicion grew as operators repeatedly turned off their AIS transmitter as the ship passed by the North-African coast, preventing the boat being identified and located by satellite systems.
 Coordination between prosecutors in Palermo and the police thus enabled the mission, in which they boarded the 'Remus' ship in international waters and with the help of firemen escorted the ship to the port in Palermo. After emptying two fuel tanks containing 20 thousand litres of petrol, around 650 packets of hemp with 20 tonnes of cannabis was discovered, pertaining to 13 different types and worth a market value of between 150 and 200 million euros.
 The operation was a group effort, driven not only by Italian customs police in Palermo, but also maritime and air forces, the American anti-drug agency 'Dea' and police in Montenegro.
 cb