Spain to welcome 87 migrants on NGO boat stranded at sea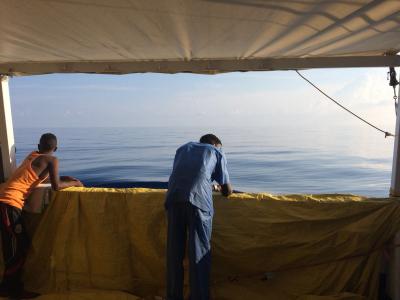 ROME – Spain has opened its port in Algeciras to the 87 migrants on board Open Arms' charity ship, which had been stranded at sea with nowhere to disembark, coastal authorities said on Tuesday.
 The charity has been waiting since last Thursday for a port to disembark in after having rescued the migrants, of whom 8 are minors and are nearly all from Darfur in Sudan. Prior to the rescue they had been drifting in international waters for two days without water.
 The charity Open Arms wrote on twitter that "the assigned port in Algeciras. Situated 590 nautical miles from where we are located, the fact is we will need three more days of sea travel from today, and are hoping that there are enough supplies for everyone. The 87 rescued will have had to wait more than a week to reach a secure port."
 Many of those rescued have been left burnt due to the combination of fuel and seawater, whilst some jumped into the sea following the arrival of lifeguards out of fear of being taken back to Libya. From the moment of the rescue, the charity boat has continued to patrol Libya waiting for a sign of a port in which to disembark.
 "Wherever, but not in Italy," Interior Minister Matteo Salvini had written on twitter.
 "We have started to see a few smiles, but fear and uncertainty is still written on the migrants' faces. All we have given is a little humanity after so much persecution and abuse in their own countries, torture both in Libya and in the sea," the charity replied.
 cb