Senegalese street seller shot at in Naples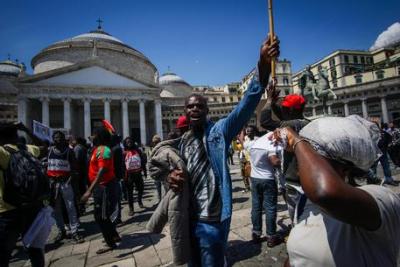 NAPLES - A Senegalese street seller was shot at by two assailants with a pistol in Naples, which left him injured in one of his legs, report State Police officials.
 Last night, the 22-year-old man who was working in Italy with a residency permit was walking up the Via Milano in the company of two friends when a scooter carrying two passengers drove past. According to witnesses, the men were white and one of them shot twice at the street seller, striking once.
 The victim is not gravely injured, and will have the bullet which is lodged in his leg removed at the San Giovanni Bosco hospital.
 The Senegalese community of Naples alongside anti-racism activists have announced a protest on Friday afternoon at 5pm after last night's attack.
 "This very serious event is just another in a long series of violence and attacks against migrants, particularly black men and women, which have multiplied in recent months – in Campania alone, there have been several just in the past week… it's time to take to the streets and say that enough is enough!" was the statement of the protest organisers.
 Over the last few days, a Nigerian citizen was attacked in Villa Literno, a Malian immigrant was shot at in San Cipriano and three Bangladeshi citizens were beaten up in Lago Patria.
 "We live during a time where racial violence is legitimised."
lb