RAI committee rejects 'Eurosceptic' choice of president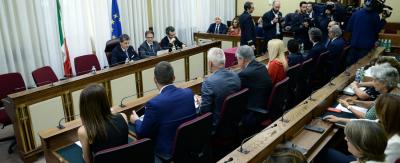 ROME – RAI's oversight committee has rejected the government's choice of Marcello Foa to head the broadcasting corporation, who was already considered a controversial choice due to his notoriously pro-Russian and Eurosceptic position, political officials said on Wednesday.
 The proposal made by the treasury minister to employ Marcello Foa as the president of the RAI under the advice of M5S and Italy's League party was rejected by the vote in the oversight committee, in which Foa received only 22 votes where 27 would have been necessary. The fact that the Five Star Movement, League and Fratelli d'Italia were all in favour was insufficient as Italy's Democratic Party, Liberi e Uguali and Forza Italia all abstained from the vote. This followed an agreement made shortly before the meeting at the San Macuto palace.
 "I respect the decision made by the oversight committee," said Foa, "I cannot do anything but invite them to show me which are the most important steps to pursue Rai's interests."
 A possibility now is to negotiate an agreement with the centre-right and back Gianpaolo Rossi, one of the advisors voted for by parliament, close to both Fratelli d'Italia and the ex-president of Rainet.
 In the meantime, the majority are encouraging Foa to remain in his place and wait for the oversight committee to find an agreement.
 "We wanted a Rai of change, but the opposition has said no," Gianluigi Paragone commented, the head of M5S in the oversight committee. "I hope that Foa does not resign."
 Meanwhile Italy's Labour Party celebrates. "They want a Rai that bows down to Salvini and Casaleggio's commands," said Maurizio Martina, secretary of the party. "Parliament has said no. The oversight committee has stopped this orchestrated massacre which would have a president controlled by the wishes of populist nationals."
 cb