Italian merchant vessel returns 108 migrants to Libya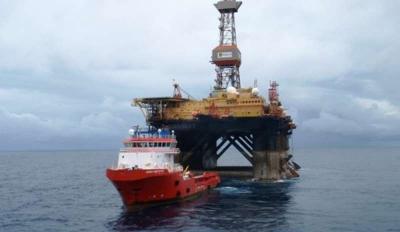 ROME – An Italian merchant vessel has taken 108 migrants back to Libya, an incident criticised by the UNHCR yet disputed by Italy's Interior Minister Matteo Salvini, coastal police reported on Tuesday.
 An Italian boat has never before brought migrants back to Libya after being rescued in the Mediterranean, but on Monday everything changed. The vessel, having saved 108 people on board a raft then accompanied them to the port at Tripoli.
 According to the Repubblica newspaper, the decision was taken after the Coastal Guard's control centre in Rome ordered the ship, a vessel which supports an oil platform, to work with the Libyan navy.
 Matteo Salvini, Italy's Interior Minister, discredited the information as "false" in a post on Facebook. Meanwhile, the UN Refugee Agency UNHER has started to collect "information" on the case because "Libya is not a secure port" and the border with Tripoli "could result in a violation of international rights."
 The case was reported in the late evening on Monday by the deputy of the left-wing Italian party Leu, Nicola Fratoianni, who has spent the past few weeks on board the charity boat Proactiva Open Arms. "We have discovered that a raft with 108 on board was rescued by the merchant vessel Asso Ventotto today, whilst flying the Italian flag and heading towards Tripoli.
 "We don't know yet if this operation was ordered by the Italian Coastal Guard," Fratoianni continued - a fact that has since been confirmed by the Repubblica. "But if it were it would be a very grave action; a complete rejection which both Italy and the commander of the boat must answer to before court. International law demands that those saved in the sea should be brought to a secure port. Ports in Libya, however much the Italian government obscures the reality of the situation, cannot be considered secure."
 In response, Salvini argued that "The Italian Coastal Guard has not coordinated and participated with any of these operations, as false declarations from a foreign ONG and from a badly informed left-wing parliament would have you believe. The Libyan Coastal Guard in the last few hours has saved and brought to land a total of 611 immigrants. So ONGs protest and traffickers lose business? Well, we will go on like this!"
 On the question of security in Libyan ports, the European Council reiterated through one of their spokespersons in the past few weeks that "no European ship can take migrants back to Libya as it goes against all of our principles."
 During the Asso Ventotto's rescue President of the Italian Chamber of Deputies Roberto Fico met with protestors and explained that "Libya is not a secure place; migrants cannot be in a place without the protection of human rights."
 cb