Governmental 'victory' as migrants welcomed in Europe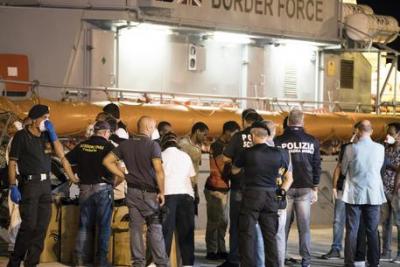 ROME – Migrants who arrived in Sicily over the weekend after being rescued near Lampedusa have finally disembarked at the port of Pozzallo after several EU countries agreed to take them, government officials said on Monday.  
 Firstly the 184 men from the British Royal Navy ship HMC Protector and later the 209 from an Italian Finance Guard vessel were rescued. Now staff at the Police Headquarters are working to relocate migrants in other European countries. The authorisation permitting the disembarkment of all the migrants still present on board the ships, stationary since yesterday in the harbour, arrived late in the evening from the government in Rome. "Today for the first time we will be able to say that they have landed in Europe," stated the President of the Council of Ministers.
 After gaining the support of Malta and France, Italy's Prime Minister Giuseppe Conte managed to convince Germany, which then led the way for Spain and Portugal to also offer their help. All said European countries are now willing to welcome 50 of the 450 migrants moored at Pozzallo, an outcome the Minister of the Interior Matteo Salvini hailed as a "victory".
 On the other hand, countries from the 'Visegrád' Group; the Czech Republic, Hungary, Poland and Slovakia have all criticised the government's request, although in theory in agreement with the hard line on migration advocated by Salvini. The Czech Prime Minister wrote on twitter that "I have received a letter from the Italian Prime Minister Giuseppe Conte in which he is asking all of the EU to welcome part of the 450 people now at sea; an approach like this is the road to hell."
 Up until the decision was made patrol boats had been moored in the water around Pozzallo waiting for more instructions. Beforehand, women, children, those in need of medical assistance and a few men had been allowed to disembark, the latter to prevent families being completely divided.
 The decision to allow certain groups to disembark had been made by Conte, government officials state, after hearing that Spain and Portugal were able to welcome other migrants. 
 cb