Champagne flows to celebrate cuts to 'gold pensions'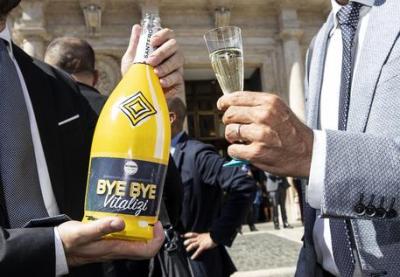 ROME – MPs from the Five Star Movement cracked open the champagne after parliament finally approved a bill to slash the sky-high pensions in the Chamber of Deputies and the Senate, political officials said on Friday.
 It's a good bye to the "Vitalizi", or Italy's huge pensions that previous members of the Chamber of Deputies and the Senate had voted in for themselves. The speaker of the Chamber, Roberto Fico, approved the new act which will recalculate the allowance from Jan. 1, 2019.
 Cutting the huge pensions was a key part of the Five Star Movement's electoral programme and members waited little time to celebrate after the news of the approval. The piazza near to Montecitorio was filled with yellow balloons and bottles of champagne whilst the party's political leader, Luigi Di Maio, declared the day "historic" and "60 years in the coming."
Despite the success, he has insisted that "pensions over 4 million euros will also be cut" and thus will continue in his fight against the so-called 'gold pensions.'
 The Vitalizi cuts have also been taken well by Deputy Prime Minister Matteo Salvini and Prime Minister Giuseppe Conte, who declared the news "a good sign", although the latter infact abstained from the vote.
 The go-ahead was given in the office following two hours of discussion and was registered there. The Democratic Party and Fratelli d'Italia were in agreement that they will not stand for those that defend the "privileged", although they challenged the methods used, positing the risk that the Constitutional court will not stop until the measures are rejected.
 Of a completely different opinion is the so-called 'father' of the mission, Fico, who defended the value and methods used and insisted that the process was perfectly within Constitutional expectations. Following the approval, he spoke little and simply stated that "a social justice had been repaired" and that now it is the Senate's turn to "come to a similar conclusion."
For now, the Senate building in Palazzo Madama is closed, whilst deputies, senators and spokespeople from the government are left to celebrate. Along with balloons and champagne, they brought a large banner reading 'Bye bye vitalizi' which became the motto of the day. Beppe Grillo also showed his support by later posting Frank Sinatra's 'bye bye baby' on twitter.
 cb