Migrants land after Mattarella ends drama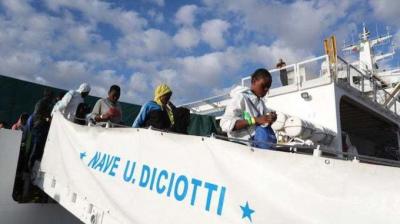 Migrants disembarking from the Diciotto in Trapani
 ROME – Opposition politicians called on Italian Interior Minister Matteo Salvini to resign Friday after President Sergio Mattarella ordered Prime Minister Giuseppe Conte to overrule the League leader and allow 67 shipwreck survivors to disembark from an Italian coast guard vessel at the Sicilian port of Trapani.
 The migrants began leaving the Diciotto late Thursday night. First to leave, escorted by police, were two men, Ibrahim Bushara from Sudan, and Hamid Ibrahim from Ghana, suspected of leading a mutiny on an Italian oil industry tug that first picked up the group, the Vos Thalassa, off the Libyan coast. The mutineers had surrounded the tugboat's captain when he threatened to take them back to Libya. They were subsequently transferred to the Diciotto but Salvini had said they would not be allowed to disembark in Italy.
 President Mattarella called Conte Thursday evening to persuade him to allow the group to leave the Diciotto in Trapani. Salvini expressed "stupor" but accepted the reprimand meekly Friday, evidently wanting to avoid a major clash with the head of state.
Among those leaving the Diciotto were three women, two unaccompanied minors, a 16-year-old Pakistani and a 17-year-old Egyptian. In all 23 of the group were from Pakistan, 12 from Sudan, 10 from Libya, seven were Palestinians, and there were four from both Morocco and Algeria, two from Egypt, and one from Chad, Nepal, Yemen, Ghana and Bangladesh.
 The Vos Thalassa was the first Italian rescue ship to be denied entry to a national port - move that added a new element to the heated debate around migration in Italy and in other European countries.
 jp