Italy surpasses even Germany in pharmaceutical production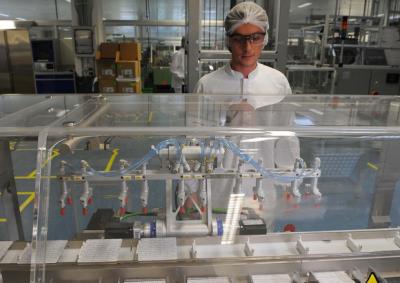 ROME – Italy is now the number one producer of pharmaceutical goods in the European Union, the president of 'Farmindustria' confirmed on Wednesday.
 After years of pursuit, the country has finally surpassed Germany with a value of production of 31.2 million euros, beating the competitor's 30 million. This success has been driven by a rapid increase in exportation that today is worth around 25 million. Massimo Scaccabarozzi announced the news at the Public Pharmaceutical Assembly on Wednesday which this year celebrated its fortieth anniversary.
 "We are the first in Europe for pharmaceutical production, thanks to the increase in exportation. This success, made in Italy, highlights the quality of our system, and has had many positive influences; greater employment for young people, more investment, the development of clinical studies that has improved the quality of medicines and brought important resources to the national health system," Scaccabarozzi said. He added "we are clearly one of the strongest in the field, and we can still improve through a partnership with institutions to resolve urgent problems and hold this strong position for a longer period of time. With definite steps we are contributing to the development of our country."
 Growth in production in the last 10 years has been completely driven by exportations; Italy has seen a huge increase in the EU alone over the last ten years (now 107 percent instead of 74 percent). This level of exportation also grew by 15 times between 1991 and 2017, passing from 1.3 to 24.8 million, and, amongst the 119 sectors of the Italian economy, medicine has rocketed from fifty-seventh to fourthplace (after the two sectors of mechanics and transport). Moreover, in terms of exports in the technological centres of all sectors, the very first two are pharmaceutical, in Lazio and Lombardy. Pharmacy itself represents 55 percent of hi-tech exports from the country.
 cb