King of Paparazzi tumbles in Roman pothole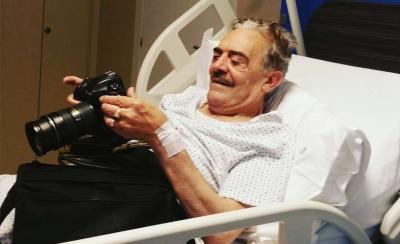 ROME - Italian paparazzi photographer Rino Barillari hospitalised after a pothole road accident, for which he is now asking the city for damages, he revealed in a Messaggero interview on Monday.
 Known as the 'King of the Paparazzi', Barillari has spent his working life flying around Rome taking photographs. 54 years into his career, this is his first road accident on the pot-holed streets of Rome. In the interview with the Messaggero, he said that he felt "humiliated and broken: it's an incident which affects all Romans."
 Barillari has asked the City for damages and has launched an appeal to Virginia Raggi: "You cannot go on like this. The streets of the centre should be like billiard tables for the thousands of people who walk there every day and instead it's like something which came out of a nuclear bombardment. It is not possible, not in a city like Rome."
 "I'm asking the City for damages, for my own case, but above all for everyone else. A life should not be put at risk just because of a hole."
 His right tibia was fractured in the fall; the same leg which was stabbed by Lazio fans all those years ago.
 "In Via di Campo Marzio, a jutting cobblestone, a crack in the road and a damn hole was the combination which caused my fall. In order to save my precious camera bag, I fell heavily on my leg instead."
 He recounted how Brigitta Macron had to cling onto her husband during their Rome visit, in fear of falling while walking along pot-holed streets. "And then what happens? They go back to France, they talk to their friends about it, and then they make fun of us."
 Rome has been making national and international news this year because of its pothole problem, and in April  the city released a 17-million-euro plan to fill 50,000 potholes, at an average of around 1,500 potholes a day, as part of emergency measures to "guarantee the safety" of motorists.
 Barillari is not the first public figure to wage war against the pothole problem; on July 3, Graziella Viviano launched a campaign after the death of her daughter inviting Romans to spray yellow fluorescent circles around dangerous pot holes. Her daughter, Elena Aubry, who was 25 years old died in a motorbike accident on May 7 due to the dangerous condition of the road.
lb