Vatican cricket team in England on interreligious tour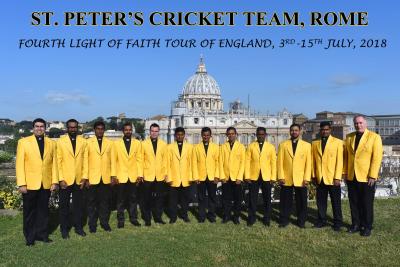 ROME - The Vatican cricket team is currently on tour in England to promote interreligious dialogue and experience religion through sport.
 Running for the fourth year in a row, the 'Light of Faith' tour started on July 3 and goes on until 15.
 St Peter's Cricket Club was founded in 2013 and the team is made up students of priesthood in Rome. It is run by the auspices of the pontifical council of culture and was created with the aim of strengthening ecumenical relations via a shared love of cricket.
 The first match of the tour will be played at Stonyhurst College, the prestigious cricket ground in Lancashire which was founded by Jesuits at the end of the sixteenth century.
 On the July 6, the players will play in London against the Archbishop of Canterbury cricket club at Lord's Cricket Ground. The Archbishop's team is an interreligious mix of Muslims, Sikhs, Hindus, Buddhists and Jews.
 Other opponents include the Commonwealth XI club and the Royal Household Cricket Club to be played at Windsor castle. On July 8 they will play at a youth detention centre.
 In the moments when they are not playing, the Vatican team are set to visit a mosque, a Sikh gurdwara, a Hindu temple and a synagogue. The visit aims to strength interreligious relations and highlight the essential role which religion plays in modern society.
 Follow the team's progress on Twitter: https://twitter.com/vaticancricket?lang=en
 And on Facebook: https://www.facebook.com/vaticancricketclub/
lb