Mancini rebuilding Italian football after Azzurri 'apocalypse'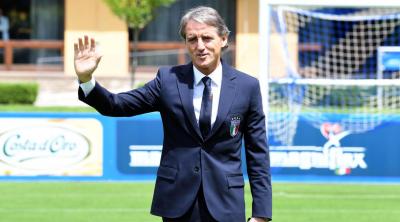 Roberto Mancini is hoping to spark an Italian football renaissance
ROME – Rarely has the top job of this football-obsessed nation held less appeal, but for Roberto Mancini, Italy's new head coach, the doom and gloom swamping the national team ever since their calamitous World Cup qualifying campaign provides a unique opportunity to breathe new life into the Azzurri.
 Mancini's journey as Italy coach kicked off with the national team at an all-time low; Italy fell to a 1-0 playoff defeat against Sweden in November last year, denying them of a last-ditch ticket to Russia 2018. For the first time since 1958, the four-time world champions had been forced to take a humiliating sabbatical from the football's most prestigious tournament.
 'Calcio' fanatics, in turn, found themselves condemned to a subdued, side-lined screening of this year's enthralling World Cup.
 As the final whistle sounded, confirming Italy's flopped qualification bid, the inevitable finger-pointing ensued as the cracks of an ageing and poor squad came crumbling down.
 Unsurprisingly, Ventura's sacking swiftly followed whilst the Italian Football Federation received their fair share of criticism, marking deeper-rooted problems. Several members still need to take a hard look in the mirror if change is to take shape, although Mancini's appointment does resemble a sense of ambition, which had been severely lacking during the dramatic decline.
 Many called for quotas on foreign players in the Serie A as cynical fans highlighted the country's 'talent drain', lacking any exciting, world-class prospects. Arguments failed to stack up, however, with both Portugal (who won Euro 2016) and Germany (who won the 2014 World Cup) hosting a higher percentage of overseas players that Italy. Likewise, the Premier League dwarfs all leagues in this regard, yet the English national team has witnessed a recent surge in emerging home-grown talent.
 Instead, the Federation must tackle massively underfunded youth academies which find themselves in desperate need of development and investment.
 Yet, what had been a steadily declining squad has now, albeit partially involuntary, hit a sudden turning point. The colossal disaster of missing out on the World Cup may turn out to be a blessing in disguise, no matter how painful, allowing Mancini to rebuild the foundations of Italian football.
 Most of the remaining old guard are arriving at the twilight stage of their careers, and as such won't be at their peak in two years' time for the Euros, whilst the nation has bid farewell to their last three world champions of 2006 – Gianluigi Buffon, Andrea Barzagli and Daniele De Rossi – highlighting the scale of the transition.
 Italy's glorious past may be overshadowed by a miserable present, but given time, a bright future awaits. The national team has long been crying out for change, and without ready-made stars Mancini has to take the youth route and embrace the rawness of his squad.
 Despite Buffon's tear-jerking farewell, Italians can largely sleep peacefully knowing that they possess one of the world's most sought-after young stars. From one Gigi to another; Gianluigi Donnarumma has enormous boots to fill, but is perfectly poised to do so having broken onto the global stage at just 17 years-old, with many regarding him as one of the most promising young Italian players of his generation.
 A series of highbrow blunders may have drawn in the critics, but the talent he possesses in indisputable and he will certainly benefit from tough competition with recent Juventus signing Mattia Perin for a place between sticks.
 Midfield, however, seems to be the part of the field where the national team has struggled desperately – partially due to Ventura's puzzling selections – but for decades, successful Italian teams have boasted of at least one highly-skilled playmaker to give them an edge: Roberto Baggio, Alessandro Del Piero, Francesco Totti and most recently Andrea Pirlo.
 Jorginho has been touted to solve a spineless midfield, filling the palpable void left after Pirlo's exit, and is expected to pull the strings in the centre of the park for many years to come. The versatile playmaker was pivotal in Napoli's refreshing, attractive style of football last season, which took them agonisingly close to a first Serie A title since 1990.
 Still under 24-years-old, Mattia Caldara, Daniele Rugani and Alessio Romagnoli will flourish as the key stone of a new-look defence, pushing to transcend to a world class level as they begin to play lead roles at their respective clubs.
 Similar rebuilding tasks, from the bottom up, were required after the 1974 and 1986 World Cups, with several great players emerging, and two semi-final appearances at the most recent Under 20 and Under 21 World Cups confirm that there is light at the end of the tunnel, no matter how faint it currently seems.
 Mancini appears to have taken a much more open-minded approach to his predecessors. The failures of Ventura are blindingly obvious, but even Antonio Conte, despite all his success, can be held culpable for his dogmatic approach, and at times blinkered selections, overlooking the vast young talent and stifling inexperienced players.
 The new national coach wasn't afraid to experiment against a world-class French line-up, handing debuts to three new promising youngsters. This bold, long-term approach, a strategy which Ventura could only dream of conjuring up, is not only refreshing after such a turbulent spell, but also precisely what Italy need to take steady, progressive steps.
 Mancini also appears to have brought clarity to the lingering Mario Balotelli debate. Maligned in the past, but now somewhat matured, the maverick striker hadn't featured for the Azzurri since the 2014 World Cup, but in recent years has shown signs of experience and marked his long overdue recall with a brilliant solo goal, complimenting a menacing display.
 In many ways, Balotelli is exactly what the monotonous Ventura-led side needed. In three hours of mind-numbing football against an unspectacular Sweden the toothless Italians couldn't manage a single goal – the fact they only netted three times in their final six qualifying games, against Israel, Macedonia and Albania, does little to suggest this was a one-off.
 Similarly, Lorenzo Insigne who was continuously disregarded, or played out of position, is set for a revival under the new system and is widely seen as Italy's most creative player – one of few with genuine flair.
 In his first press conference, an enthusiastic Mancini told journalists that he would "bring Italy back to the top of the world and Europe," citing his managerial role as a chance to fulfil a life-long dream of lifting the World Cup.
 Whilst, for now, this may seem far-off fantasy, Italian football is far from dead.
 The Mancini era is filled with promise, but supporters have to be patient and realistic. He must be given time to see through extensive renovations or the Azzurri risk an excruciating return to square-one.
 af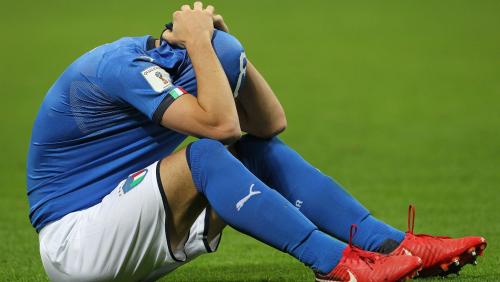 Alessandro Florenzi after Italy's failed World Cup qualification bid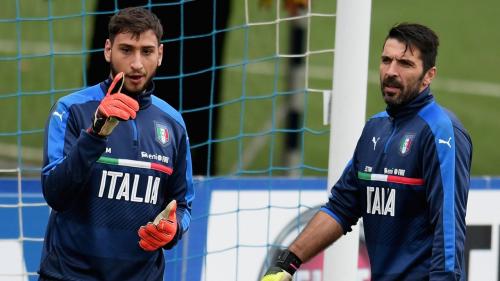 Gianluigi Donnarumma (left) training with his mentor, legendary keeper Gianluigi Buffon