Pope Francis to lead Christian persecution talks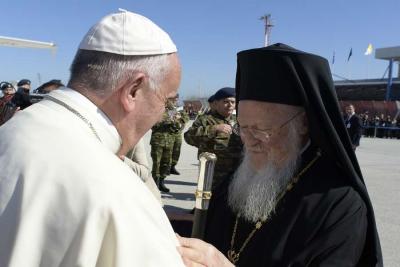 Pope Francis and Orthodox Ecumenical Patriarch Bartholomew I in 2016
BARI - Pope Francis leads an ecumenical trip to Bari on Saturday bringing together religious leaders of the Churches and Christian communities of the Middle East in a momentous encounter to discuss Christian persecution in the Middle East.
 Among those due to attend the event are cardinals Leonardo Sandri (Prefect of the Congregation of Oriental Churches) and Kurt Koch (president of the Pontifical Council for Christian Unity). Also present will be Patriarch Kirill of Moscow, the Russian Orthodox leader; although Russia is not geographically in the Middle East, his attendance shows a desire for the whole Christian community to work collectively to ease the suffering of other Christians. The pontiff will preside over the discussions on July 7 which will take place in the St Nicholas Basilica in the Apuglian capital; a symbolic location where the remains of St Nicholas are said to be enshrined.
 At the press conference in the Vatican on July 3 ahead of the trip, Cardinal Koch presented the statistic: "Christians in the Middle East represented 20 percent of the population at the beginning of the twentieth century, but today they are reduced to 4 percent." The Christian community must therefore be protected, as "it is not possible to imagine a Middle East without Christians, an essential element of balance in the region."
 Koch and Francis acknowledged the fact that the Middle East can hardly be pacified in the short or medium term, and that is why they insist upon it being "urgent to continue the interreligious dialogue", because "there is no other way."
 Beyond simply protecting Christians, the leaders want to improve the acceptance of Christians in the regions where they are vulnerable, as was stated last September by confrere Pietro Parolin, Secretary of State: "Christians do not want to be a 'protected minority' and well tolerated. They want to be citizens whose rights are defended and guaranteed together with all the other citizens"
 The meeting will be an important step towards a unity of effective action of the Christian confessions in the Middle East, also increase their political coherency for the future of the region.
 Doves are to be set free in the courtyard of the St Nicholas Basilica once the talks are over.
lb