Criminal network busted for archaeological goods trafficking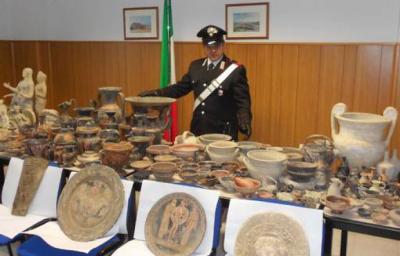 ROME – The arrest of a British art dealer on Wednesday is linked to an international criminal gang network, involving the theft of Sicilian treasures worth over 40 million euros in an investigation that dates back to 2014.
 The Carabinieri of the Cultural Patrimonial Protection Command have dismantled a criminal organisation dedicated to the international trafficking of Sicilian archaeological goods, following 23 arrests in Italy, the UK, Germany and Spain on Wednesday morning. 20.000 objects have been recovered, with a total value surpassing 40 million euros.
 The arrests were carried out following the decisive conclusion of the investigation, named "Demetra", which was launched in the summer of 2014 following an episode of criminal theft in Riesi in Sicilly. It was quickly confirmed that this was not an isolated incident, but linked to a systematic attack on the archaeological Sicilian patrimony. The investigation, developed by the Central Patrimonial Cultural Protection of Palermo in collaboration with the Central Investigative Provincial Command in Caltanissetta, aimed to discover the roots of the archaeological trafficking, and as of 2014 the Carabinieri have recovered around 3,000 items, at a market value of more than 40 million euros.
 The operation "Demetra" has had two principal branches of investigation. The first centres on Franceso Lucerna, 76 years old, leader of a criminal organisation that for decades has ransacked archaeological areas and sent objects to collectors in Northern Italy. These collectors were very aware of the illegal origins of the goods whilst the group also developed counterfeits with individual works in the Cantonese province.
 The investigation quickly reached an international level as, by digging deeper into the evidence found in the first investigation, confirmed a link with a criminal transnational holding run by the London art merchant William Thomas Veres. Thanks to a complex network extending between Italy, Spain, and Germany, the organisation was able to traffic considerable quantities of Sicilian archaeological goods which were delivered by local representatives in the organisation and rented by couriers that then exported them illegally in Germany. On arrival they were assigned fake certificates of origin and absorbed into the legitimate art market and auction houses operating in Monaco di Baviera.
 Throughout the investigation, international judiciary and political cooperation was fundamental in reconstructing the entire trafficking chain, even surpassing national borders. Having come to an end, it also highlights the phenomenon of international criminal trafficking of archaeological goods to the State. Sicily, a province rich in historical artefacts, is a vulnerable target for intense raiding by gangs involved in the illegal art market.
cb