Salvini takes 'promotional plunge' into anti-Mafia debate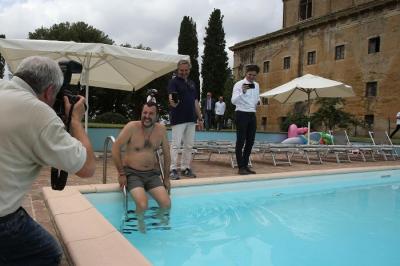 Deputy Prime Minister Matteo Salvini pauses to pose before swimming three lengths at the previously Mafia-owned villa
SIENA – Italian Interior Minister Matteo Salvini sought to nullify alleged links between his far-right League party and criminal organisations, taking a dip in the swimming pool of a villa confiscated from the Mafia, inviting photographers to publicise what he hopes will be the start of his anti-Mafia legacy.
 Salvini dived into the pool of Suvignano, a Tuscan villa in Monteroni d'Arbia, which had been seized from a Mafia mobster. "What a pleasure to swim in the pool confiscated from the boss. A double pleasure," Salvini said. "The fight against the mafia will be a priority for me and my government."
 "We need to leave these men in their underpants, because the only way to fight the mafia is to seize everything," he added, speaking from the villa which was confiscated 11 years ago.
 Giovanni Tizian, a journalist for L'Espresso who has received threats from the 'Ndrangheta clan, revealed that Salvini's recent electoral success in Calabria "relied on the support of men with a troubled past and a dark political history," whilst accusations fly around, alluding to backing from the 'Ndrangheta mafia in March's elections.
 The League leader triumphed in Reggio Calabria partially thanks to support from the south Italian city's controversial former mayor, Giuseppe Scopelliti, who had struck a political deal with the hard-right party before later being arrested for forging documents while in office. "Scopelliti was popular and could count on thousands of supporters," Tizian added.
 Celebrating his party's recent surge in traditionally centre-left voting Tuscany, the League leader completed three lengths in front of paparazzi, pacing himself throughout a one minute thirty-eight second swim which failed to threaten record books, but caused a stir amongst Italian media.
 His constant political campaigning has reportedly irritated the Five Star Movement, who are growing increasingly tetchy at his out-of-office style of government. His decision, therefore, to call in photographers and cameramen, seeking to circulate images of his 'macho' swim is unlikely to improve relations.
 The League leader's promotional plunge, didn't receive a particularly warm welcome from Italian political commentators either, who saw it as an attempt to reclaim the limelight after an uncharacteristically quiet couple of days away from the headlines.
 In fact, Sebastiano Messina pointed out in La Repubblica that the 'viral swim' isn't a new concept, citing a series of profile-raising topless photoshoots used by both politicians and dictators in the past.
 "The idea of the swimming leader isn't original at all. [Benito] Mussolini began, as 'the first sportsman of Italy' … 'a ruler of history and also a ruler of his own body'," said Messina, also mentioning the publicity success of Mao Zedong, former Chairman of the Communist Party of China, who topped Salvini's quick dip with a long-distance swim down the Yangsti.
 Russian President Vladimir Putin hasn't shied away from the camera either, showing off his athletic lifestyle in a series of topless photos captured in Siberia, and even the fortunes of Five Star founder Beppe Grillo profited from his Straits of Messina swim, leading up to the party's first triumph in the 2012 Sicilian elections.
 In recent months, Salvini has largely overshadowed Italian Prime Minister Giuseppe Conte, dominating Italian front pages with his confrontational anti-migrant stance.
 "Every week I'll go to visit a property seized from the mafia. Great work here – now we need to move from words to actions," Salvini said, keeping an eye heavily fixed upon poll results and seemingly unwilling to change his unorthodox style of leadership, eager to become the next viral swim success story.
 af