Mussolini's evolving hometown leads tourism revolution
The imposing, yet desolate, Casa del Fascio hopes its new life as a museum can spark nationwide debate on Italy's past and enlighten unwanted tourists
PREDAPPIO – For years, busloads of fanatical hard-right supporters have been making the 'pilgrimage' to the Capital of Fascism, tucked away amongst the tranquil, rolling hills of Romagna. The town of Predappio however, has had enough and is spearheading a tourism transformation to regain their region and share with visitors the diversity of this fascinating, picturesque territory.
 Predappio's centre-left Democratic Party mayor is piloting the unlikely project to convert Benito Mussolini's Casa del Fascio (House of Fascism) into a museum, not seeking to eulogise the former Italian dictator, but instead learn from the reality of a dark era in the country's history.
 The change in Predappio epitomises the rapidly evolving cultural hotspots across the often-overlooked mountainous countryside of Romagna, overseeing a shift in focus towards offering a more personable welcome to visitors which, in turn, has galvanised support for agritourism.
 A revitalised collaboration between neighbouring municipalities has allowed locals to tell the true story of Romagna.
 Mussolini admirers have long flocked to the birthplace of the country's former cut-throat leader, born on July 29, 1883, whose visits continue to reopen the scars of early to mid-twentieth century Italy. As such, Predappio has involuntarily cemented itself as the 'meeting point' for those wishing to celebrate Italy's dormant, but very much still alive hard-right sentiment.
 The sheltered romagnolo town acts as a microcosm for Italy – a country which has never quite managed to shake off the shackles of its Fascist past – but Predappio, in particular, has struggled to come to terms with the 'boom and bust' of the Mussolini era.
 An assortment of fascist-themed memorabilia, from the belligerent to the utterly bizarre, line the streets of an otherwise sleepy town; replica daggers, Mussolini-branded beer bottles, truncheons and fascist recipe books draw in "comrades of Il Duce," looking to mark their travels with a suitably contentious souvenir.
 However, Predappio's broad-faced, kind-eyed mayor, Giorgio Frassineti, has set about to change this, marking a region-wide drive to encourage tourists, particularly younger generations, to visit and absorb the diverse, largely disregarded inland attractions across Romagna.
 Holidaymakers tend to head straight for the Adriatic coast, swarming in upon the buzzing nightlife of Rimini and costal sun-magnet of Ravenna. Yet, as Romagna continues to unearth countless treasures, which go far beyond exceptional wine and some of Italy's leading restaurants, the inland, mountainous area has caught the eye of an increasing number of visitors, offering a cultural alternative to boozy beach trips.
 Working alongside historians in Predappio, Mr Frassineti plans to transform one of Mussolini's prize properties, the Casa del Fascio, into an evocative museum and centre for the study of fascism, which will employ "culture as a weapon of mass destruction for ignorance."
 "By doing nothing, we left Fascism in the hands of shopkeepers and nostalgic thinkers," Mr Frassineti said, having taken the reins from a series of mayors who have struggled to deal with tourist 'high-seasons', hinging upon the anniversaries of Il Duce's birth, death and rise to power.
 "We can't be the San Marino of Fascism," Mr Frassineti said, who is becoming increasingly anxious of growing nationalistic sentiment across Europe, and hopes to shut down the town's three remaining fascist souvenir shops.
 His ambitious museum project, therefore, will look to trigger nationwide debate on memory, mobilising and moulding Predappio's past to welcome a fresh style of tourism.
 Predappio embodies the sweeping changes across the Romagna territory; offering an educational, personal and cultural experience to visitors, the region has focussed on the sustainable development of tourism, and has noticed a surge in seasonal agritourism.
 "An attention to quality of life and the integration of sea and countryside is the strategic premise and engine for the development of the 'Destination Romagna'," said Fausto Faggioli, the director of one of the region's up-and-coming agritourism projects, Happy Bio.
 The budding initiatives offer a fantastic opportunity for "the discovery of a territory and its prestigious cultural and enogastronomic proposals, through the 'window' of the sea, the richness of the inland area with its authentic villages."
 Delicately balanced on the 'balcony' of Romagna, the quiet town of Bertinoro gazes miles out from the heart of the region towards the coast.
 Much like Predappio, Bertinoro is grasping the opportunity to look back to its own history, contemporising the town's intrinsic, welcoming characteristics to offer visitors an enriched excursion, whilst taking particular pride in locally sourced products.
 Cuisine across Romagna, for example, revolves around the legacy of Pellegrino Artusi, "the father of home cooking," whose pioneering recipe book, 'La scienza in cucina e l'arte di mangiar bene' (The Science of Cooking and the Art of Eating Well), centred on providing high-quality ingredients and an open-arms invitation to guests, has set the tone for years on end.
 Similarly, vineyards contour the undulating hills, and many wine producers have embraced the growth of agritourism, much like the self-styled biological farm 'Il Pratello', offering a stop-off where people are guests to badgers, squirrels, porcupines and roe deer.
 "Water is a disaster – it's a joke!" stressed the region's ever-smiling wine promotor, Mirko Capuano, who has played a key role in unlocking the tourism potentials of his beloved Romagna, where a "drink" is synonymous to "wine."
 Tradition, he said, largely explains why this peaceful town of Bertinoro has earned a reputation as a "city of hospitality." Families used to quarrel over who would receive incomers, such was the desire to entertain guests, until the Colonna delle Anelle (The Column of Rings) was erected in order to solve these disputes. Each family would tie a handwritten letter to a ring, which visitors drew upon arrival to select their host family at random.
 As such, Mr Capuano explained, it is no surprise why Romagna's tourism sector is enjoying increasing success through agritourism, whereby visitors are embraced by rural communities during their stay. Locals immediately welcome passers-by, always seeking out opportunities to offer a first-hand insight into the region's unique history and culture.
 "I love Romagna, especially its inner part," remarked the writer, Alessandro Baricco, "because if you spot someone to ask for information, they tell you about their whole life."
 Romagna is promoting a region where restaurants, bars, history and culture aren't enough; instead, its people want a place where visitors receive all of this alongside a warming hospitality and an enlightening experience.
 "It is a land without borders," journalist Guido Nozzoli said of Romagna, "which isn't only known for its mountains, rivers and climate, but for the people and for their habits: a region of character, an island of emotions."
 In other words, Romagna has evolved as a unique world, shaped by its inhabitants; it is precisely these people who are successfully transforming it into one of Europe's in demand destinations.
 af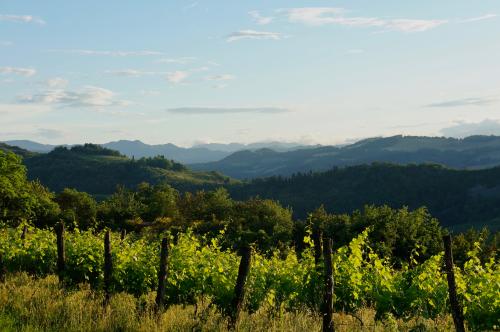 Neat rows of grape vines line the stunning landscape. Photo: Archie Farquharson
Fascist souvenir shops stain the streets of Predappio. Photo: Archie Farquharson