Italian gold medalists brought into anti-immigration dispute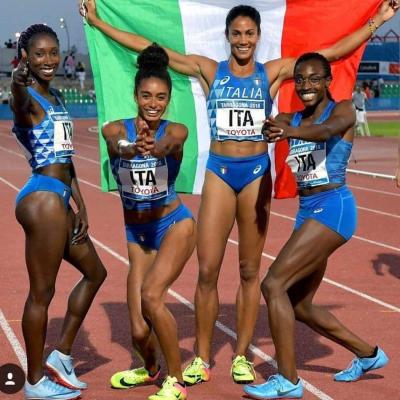 The photo of the 4x100 champions has been shared thousands of times across social media platforms
SPAIN - The 4×400m girls won gold for Italy at the Mediterranean Games on Saturday night, this year taking place in Tarragona, Spain. Mariabenedicta Chigbolu, Ayomide Folorunso, Raffaella Lukundo and Libania Grenot finished first with the time of 3:28:08, a whole second ahead of France.  
 The victory photo of the girls holding the Italian flag on the track has been shared thousands of times across social media, as well as by several Italian politicians and public figures. Roberto Saviano praised the athletes via Twitter, sharing the photo with the caption: "Their smiles are the answer to the racist Italy of Pontida. A multicultural Italy born from the republican dream will not be lost."
 The athletics news comes in the same weekend as the rally at Pontida, where Salvini spoke before thousands to call for a Europe-wide alliance against mass immigration in order to build "a proud Italy, afraid of nothing and no one."
 Matteo Renzi shared the photo of the 4x100 runners, with the caption: "The best news of yesterday comes from the Mediterranean Games and not from Pontida. Here is the real "fearless Italy" #ItaliansFirst. Happy July, friends", using Salvini's slogan ironically.
 The League minister Gianmarco Centinaio joined in on the social media storm to call out Saviano and Renzi as "parlor politicians" via Twitter and accused them of being the "real racists" by pointing out the athletes' ethnicity: "156 medals won by Italy at the Mediterranean Games, but Saviano and the PD can only remember the one won by the athletes of colour."
 Matteo Salvini also had something to tweet about the winning athletes: "Very well done, I would like to meet them in person to congratulate them…. The problem in Italy is the presence of hundreds of thousands of illegal immigrants who did not run away from war. But we do not have a problem with girls and boys who, regardless of skin colour, make our country stronger. Well done girls!!!"
 Chigbolu, Grenot and Folorunso represented Italy at the 2016 Rio Olympics, where they placed sixth. Grenot is the European champion in the solo 400m and the first Italian woman to win an international track title in over 70 years.
lb