Migration, Pope Francis calls on unified support for Africa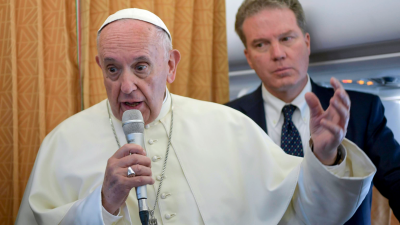 Pope Francis on board the papal plane, speaking on his return journey from Geneva
VATICAN CITY – Returning from Geneva on Friday, having met with the leaders of Christian Churches, Pope Francis spoke about the urgent need for European countries to provide aid through the Marshall Plan to African countries with high emigration rates, papal sources said.
 Praising the migration project currently being carried out by German Chancellor Angela Merkel alongside French President Emmanuel Macron, the pope hoped that unified efforts, offering direct support to African nations, would drastically reduce the huge migratory flows.
 With waves of refugees "fleeing war and hunger," the pontiff revealed his criteria "to welcome, accompany, arrange [and] integrate" migrants. Every country will need to assess "how many refugees it can accommodate, how many it can integrate, and how many it can give work to," Francis said.
 Stressing that migration is now a global problem, not solely European, the pontiff condemned the appalling conditions migrants often encounter when escaping from their war-torn homeland. "As soon as they arrive [in migration camps], they immediately separate women and children from men. And God only knows what traffickers do," he said.
 "Mutilation, torture and then when they die they throw them into the mass graves," Francis said, citing distressing resemblances to Second World War concentration camps.
 Appreciating that several countries are looking to approve a reviewed Dublin agreement, Francis called on European governments "to give the people of Africa jobs, education and a choice," hoping to resolve this "emergency" situation and improve the lives of African people, "who have so many cultural riches and whose children are gifted with great intelligence."
 During his ecumenical visit to Geneva, Francis said on Thursday he found it "disturbing when some Christians are indifferent to those in difficulty," adding that, "the conviction of those who believe their benefits are purely sign of divine predilection is even sadder."
 af