Prayer vigil to be held in memory of World Refugee Day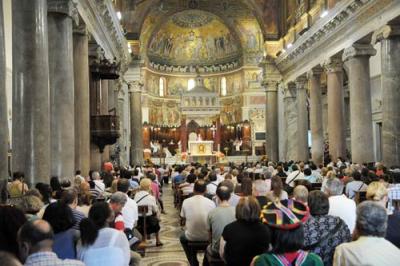 Prayer vigil inside Santa Maria in Trastevere
ROME – The Basilica of Santa Maria in Trastevere will be holding a prayer vigil called "Dying of hope" on Thursday at 6 p.m. in memory of all the migrants who have lost their lives journeying to Europe.
 The event will be chaired by Monsignor Marcello Semeraro, Secretary of the Council of Cardinals, and is being organised by charitable organisations across Italy in order to celebrate World Refugee Day 2018.
 These include: Centro Astalli Association, Italian Caritas, Community of Sant'Egidio, Federation of Evangelical Churches in Italy, Migrantes Foundation and the Scalabrinian Agency for Cooperation.
 They've been organising events of this kind for over 13 years, in which communities and associations of immigrants, refugees and voluntary organizations participate.
 The vigil aims to remind everyone of the hope and suffering those seeking protection and asylum in Europe experience.
 They also want to warn people against inaction and desensitization, and encourage them instead to work for a more humane and just world.
 The charitable organisations further wish to call on governments, legislators and the European community to make every effort to protect refugees and to safeguard the lives and dignity of migrants.
 They claim that opening legal channels for those entitled to seek asylum, setting up adequate resettlement programmes for refugees, and setting admission fees for foreign workers, are mandatory measures needed to manage the complex phenomenon of migration and make our societies more inclusive and therefore safe.
 Since 1988, over 36,000 people have died journeying to Europe. In 2017, 3,139 migrants died in the Mediterranean while trying to reach Europe by sea, with an average of almost 10 deaths per day.
 The figure recorded in 2018 is sadly just as chilling. From January to June 19, 802 people have died. This number, however, could be much higher.
 fct