Salvini: "Italy does not deserve France's criticism"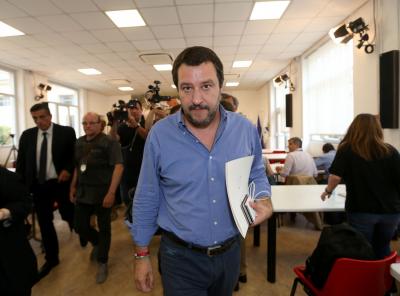 ROME - Salvini has responded staunchily to the French government's criticism of his decision to close Italy's ports to the Aquarius rescue boat on Sunday, causing tension between the two countries. 
 Emmanuel Macron denounced Italy's position on migrants as "nauseating" and "irresponsible" during a Cabinet meeting on Tuesday: "It's totally unacceptable to play petty politics with human lives as is happening now."
 From all over Europe, Salvini received criticism for his tough migration policy and seeming lack of empathy for the 629 lives on board the Aquarius which he put at risk. Unwavering in his decision, Salvini tweeted: "Spain wants to denounce us, France says that I'm 'nauseating.' I want to work calmly with everybody but with a principle: #italiansfirst."
 In response to the French President, Salvini targeted the hypocrisy of the French government turning away the same ship from the shores of Malta: "To the French President, all I have to say is this: 'Emmanuel, if you really do have such a heart of gold, tomorrow morning we will hand over to you all the details of the nine thousand migrants which you were supposed to accept in the first place.'"
 "We have nothing to learn from anyone in terms of solidarity. Our history does not deserve to be harangued like this by the French government, and I hope that they will apologise for this."
 Salvini followed up this response with a threat to pull out of a migration summit scheduled in Paris for later this week.
 He then turned his criticism to the rest of Europe and its overall unwillingness to help in the refugee crisis; "If Europe really does exist, it would be great if they could lend us a hand. If you are out there, you need to show it in a time like now", reminding us of the fact that Italy has so far accepted 170 thousand migrants, while Spain has only accepted sixteen thousand.
 Not everyone was opposed to Salvini's decision to close its ports, as he won the support of the Hungarian Prime Minister Viktor Orban, who said that the move was a "great moment which may truly bring changes in Europe's migration policies."
 On Thursday, Macron refused to apologise for his criticism and shortly afterwards the Italian Prime Minister, Giuseppe Conte, confirmed that Italy would not be present at the Paris summit this Friday as "the conditions for it are not suitable." 
 lb