A cultural guide to Capri's scandalous past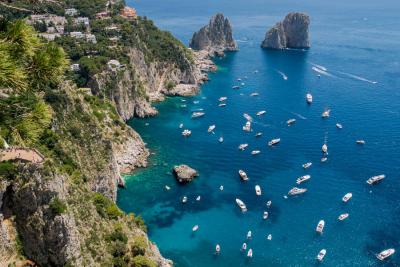 CAPRI - This enchanting island, nestled in the Gulf of Naples, draws glamorous sun seekers from all over the world year upon year to its legendary shores. 
 "Legendary" for its trendy towns, celebrity hotspots and natural beauty.
 However, what the average tourist is unaware of is Capri's scandalous past, a reputation assigned to it by several characters throughout history.
 The former Roman Emperor Tiberius is one such personality, who used the island as an erotic safe haven away from Rome. He practiced sexual extravagances and obscenities in the villas he had constructed, one of which is still standing and open to the public.
 Another figure of the same calibre was French aristocrat Jacques d'Adelswärd-Fersen, who lived on the island in self-imposed exile after a sex scandal involving Parisian schoolboys. He fled to Capri with his gay Roman lover Nino Cesarini at the turn of the 19th century, where they indulged in a debauched lifestyle, frequently smoking opium in the "Chinese Room" in the basement of his house.
 Fersen's lavish residence is also open to the public and well worth visiting if you want to explore Capri's more captivating past.
 Read on to discover more about these recommendations and others that could easily be fitted into a weekend getaway.
 ----
 VILLA LYSIS
 An absolute must-see is the stunning Villa Lysis, built for the industrialist and poet Jacques d'Adelswärd-Fersen in 1905.
 As soon as you step foot into Fersen's extravagant retreat, which he fled to from France after allegations were made against him for holding "tableaux vivants" of pupils from the best Parisian schools, you get an insight into his decadent lifestyle, which ultimately revolved around his two loves: the Roman boy Nino Cesarini and opium.
 The Latin inscription "AMORI ET DOLORI SACRVM" ("A shrine to love and sorrow") engraved on the house further emphasises his romantic inclinations and poetic passions.
 The villa itself combines Art Nouveau with Neoclassical elements, with splendid staircases, glorious terraces, wrought-iron balustrades, columns, arches and marble floors.
 The aesthetically pleasing architecture is complemented by some of the best views the island has to offer, with bedrooms and terraces overlooking the Gulf of Naples and Capri itself.
 Perhaps the most iconic view, however, is the one framed by a statue of a dancing boy in the foreground and Capri's charismatic coastline in the background.
 The tortured artist committed suicide on Nov 5, 1923 by dissolving five grams of cocaine into a glass of champagne. It's well worth going to see the legacy he left behind, unknown to the average tourist and reached via an enchanting path.
 VILLA JOVIS
 After visiting Villa Lysis, you'll find the Roman emperor Tiberius' "pleasure palace" a few hundred metres away.
 Villa Jovis, as it's known, is located on the north easternmost tip of the island and boasts another spectacular panoramic view.
 While the villa itself is in ruins, it's well worth walking around and exploring its grounds, as a light breeze cools you off from the gentle ascent up.
 Emperor Tiberius, who ruled from 14 AD to 37 AD, set foot on the island of "Capreae" over 2,000 years ago and ordered 12 villas to be constructed.
 Villa Jovis, named after the Roman god Jupiter, or Jove, is the best preserved and is thought to have been the most lavish and largest (23,000 square feet).
 Tiberius, who at the time was becoming increasingly paranoid in Rome, chose Capri as a base because of its isolated position, where all the landings could be easily controlled. Its natural beauty and Mediterranean climate were other obvious pulling points.
 At more than 1,200 feet above sea level, you can appreciate the strategic positioning of the Roman villa. Standing on the highest point of the ruins gives you the opportunity to survey its outstanding vistas and inhale the cool sea breeze.
 On Capri's secluded shores, Tiberius also indulged in obscene sexual practices and debauchery, despite his mature age. He was addicted to every kind of perversion, and subsequently became known as the "old goat" of Capri.
 The cliff-top villa, which was allegedly furnished with indecent pictures, statues and erotic manuals, hosted endless summer orgies, where bevies of beautiful young men and women from all over the Empire would prostitute themselves to the elderly emperor and his guests.
 Tiberius' sexual indulgences were further complemented by watching his enemies being tortured and thrown off the surrounding cliffs into the ocean below.
 When you reach his residence, you can appreciate the daunting drop and start to understand what a depraved man he was.
 DA LUIGI AI FARAGLIONI
 After a stimulating morning, a top recommendation would be to go to the scenic restaurant Da Luigi ai Faraglioni for lunch.
 Harboured amongst the rocks and with magnificent views of the Faraglioni, it is truly a breath-taking spot.
 The menu is laden with fish, fresh salads, burrata, prosciutto and all you could wish for, along with wine, rosé and Aperol Spritz. If you choose wisely, it won't cost you an arm and a leg.
 Da Luigi can be reached by a boat service from its sister beach club La Canzone del Mare in the Marina Piccola, or alternatively by foot. If you walk from the Piazzetta it will take you 30 minutes.
 I would recommend walking if you want to experience a scenic coastal path sheltered by pine trees and filled with Mediterranean aromas.
 You'll be left you in awe the moment you see the legendary Faraglioni, as well as the enchanting restaurant from afar, which will immediately seduce you with its magical setting.
 Surrounded by crystalline water and splendid rocks, you can also access its historic bathing spot attached to the restaurant for 22 euros per person.
 ----
 ANACAPRI
 After a day in Capri, you might like to visit the more modest town of Anacapri on the western part of the island, which is only a 10-minute drive away.
 Though less glamorous and quieter, it has plenty of things to do and see.
 VILLA SAN MICHELE
 A visit to the 19th century Villa San Michele, built by the late Swedish physician and author Axel Munthe, is a must.
 As well as housing an impressive collection of classical Roman, Etruscan and Egyptian artefacts, it also boasts a spectacular panoramic view over Capri's harbour, the Sorrentine Peninsula and Mount Vesuvius.
 The museum, which is open all year round, is surprisingly empty if you go out of season. You can therefore enjoy a peaceful stroll around the villa's Mediterranean garden and appreciate the legendary sphinx statue away from the buzz of the crowds.
 Axel Munthe famously wrote The Story of San Michele, which describes how he first discovered the island and built the villa. It became an instant worldwide success and was translated into several languages.
 The museum shares snippets of his life with you and reports on his relationship with the Crown Princess of Sweden, Victoria of Baden. Although he served as her personal physician, it was rumoured they were lovers, though this was never fully confirmed.
 Munthe, who was married three times, was also believed to have had an affair with English socialite Lady Ottoline Morrell. They met in the summer of 1898 and travelled to his exclusive retreat in Capri several times, where they enjoyed each other's company in private.
 If you want to avoid the entrance fee to his house, walk around the back to reach the lookout point, where you'll get a similarly breath-taking view of Capri. However, there will be more people and you won't get to experience the blissful haven found inside Munthe's house and garden, or learn about his fascinating life.
 MONTE SOLARO
 After this visit, make your way back to Piazza Vittoria where you'll find the chairlift station that takes you up to Monte Solaro, the highest peak on the island at 589 metres above sea level.
 The queue moves quickly and is well worth the wait. Alternatively, you could hike up to the top, however, that is a trip in itself.
 During the peaceful ascent to the summit, which takes 12 minutes, you get to enjoy unparalleled views of Anacapri, the Gulf of Naples, Vesuvius, the Isle of Ischia and the Gulf of Salerno.
 Once you reach the top, you also catch sight of the Faraglioni and Capri's majestic coastline; a real treat for the senses with its vibrant colours and cooling breeze, accompanied by the sound of squawking seagulls and rolling waves.
 After taking numerous pictures and panoramic shots, you can enjoy a refreshing drink or gelato while gazing at the island's overwhelming beauty.
 It's definitely not a trip to be missed and one of the most exciting highlights Anacapri has to offer.
 ----
 These recommendations will certainly keep you busy over a weekend escape and give you an insight into Capri's history and scandalous past.
 However if you're staying on the island for longer there are plenty of other things to do.
 If you like walking, there are countless coastal pathways you can look into, including a short walk to see the Arco Naturale. If you're an ocean lover, rent a boat to explore the endless bays and caves that dot Capri's coastline, while if you're into "radical chic" fashion, spend a day dipping in and out of the glamorous shops in town. 
 Despite its size, Capri has boundless things to offer for all tastes and ages. Make sure you go in May, early June or September so as to avoid the crowded summer season.
 fct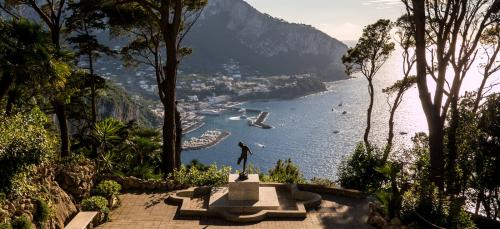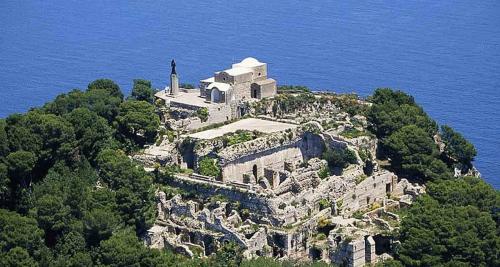 Villa Jovis, Emperor Tiberius' "pleasure palace"