Pope accepts bishops' resignations in Chile abuse scandal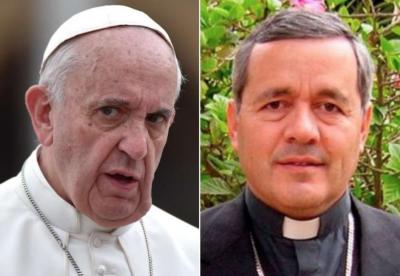 Pope Francis (left) and Juan Barros (right)
VATICAN CITY – Pope Francis has accepted the resignation of Juan Barros, Bishop of Osorno, and two other churchmen involved in the Chilean sexual abuse scandal, Vatican officials confirmed on Monday.
 This comes after 31 bishops presented the pontiff with their letter of resignation "en masse" at the end of a meeting at the Vatican on May 18.
 Francis has so far accepted three of these. Juan Barros, who's considered to be one of the closest collaborators of Father Fernando Karadima, the serial offender guilty of abusing minors, was the first to go.
 Then there's the Archbishop of Puerto Montt, Cristián Caro Cordero, whose renunciation was announced on Sunday evening by the Chilean Episcopal Conference website, and the Bishop of Valparaíso, Gonzalo Duarte García de Cortázar, both accused of covering up abuse scandals.
 The removal of these bishops has taken place 24 hours after the departure of the Matlese Archbishop Charles Scicluna, the expert of canonical investigations into the abuse of minors by clerics, and Father Jordi Bertomeu, the Catalan monsignor of the Congregation for the Doctrine of Faith.
 They've left for Chile on a circumscribed mission to the diocese of Osorno, where 60-year-old Jorge Enrique Conchua Cayuqueo has recently been appointed apostolic administrator by Francis.
 Although the news of the removal of Barros had been circulating Chile since Friday, it was thought that the pontiff would make this decision at the end of Scicluna and Bertomeu's trip on June 19.
 Evidently the bishop and the monsignor's work goes far beyond deepening the responsibilities of Juan Barros, and aims to dismantle the "culture of abuse, cover-up and psychology of the elite" that seems to reign in Chile, as the pontiff denounced in his letters to the episcopate and Chilean people.
 The special association "Organización de Laicos y Laicas de Osorno", set up to protest for the removal of Barros, applauded the Pope's decision, however outlined that the problem hasn't been resolved by a simple reshuffling.
 Spokesman Juan Carlos Claret Pool said that in these past few years "too much has been lost to rejoice" and that we must continue, now more than ever, to search for "truth", "justice" and "reparation" in the Church, without "diluting penal responsibility".
 Monsignor Juan Barros was never directly accused of abuse, but was guilty of having covered up the crimes committed by his mentor Karadima, one of the most controversial and disputed characters of the entire crisis of the Chilean Church.
 fct