Cultural Heritage Rescue Prize announces winner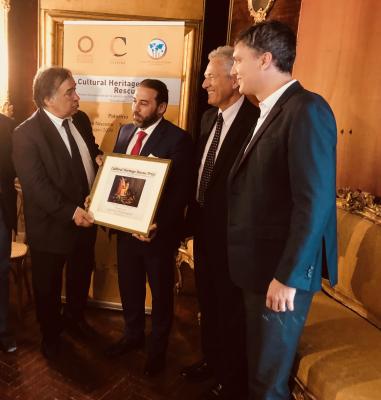 ROME - The third edition of the Cultural Heritage Rescue Prize was held in Palermo at Villa Niscemi. This prize dedicates itself to celebrating those who safeguard their endangered cultural heritage, even when it involves endangering their own lives. 
 Among those present were the mayor Leoluca Orlando and the governor of Sicily, Nello Musumeci.
 Francesco Rutelli, president of the "Incontro di Civiltà" Association, presided over the jury that the prize to the al-Qadiriyya Library of Baghdad for "the incredible work and the exceptional dedication to preserve the cultural heritage and to strengthen dialogue and cultural and religious tolerance."
 In addition to receiving an award and recognition from a  prestigious association, the winner will also receive 10,000 euros to further their cause.
 Francesco Rutelli said that "The Library al-Qadiriya of Baghdad has been saved from destruction, unlike many masterpieces of Heritage, Museums, and Libraries in Iraq, thanks to the courage of its curators. Having escaped a missile in the war, an ISIS car bomb and repeated threats, it preserves an exceptional heritage of millennia. Our Award recognizes this courage and testifies, from Palermo Capital of Culture, that the Heritage of Humanity is the heart of our future."
 The mayor of Palermo, Leoluca Orlando commented that the award was a testament to the "appreciation and harmony for the cultural values of hospitality and peace that characterize the Palermo of today."
 The Director of al-Qadiriyya Library in Baghdad, Syed Khaled expressed his delight at receiving the award, saying that it marked "the first time" that their institution had received such "international attention."
 Khaled also added, "I am pleased that this has happened in Italy: the Americans and the British consider Iraq only for oil, Italy considers us for its cultural heritage, monuments, art, and books."
 eh