Fault suspends Rome metro service amid explosion fears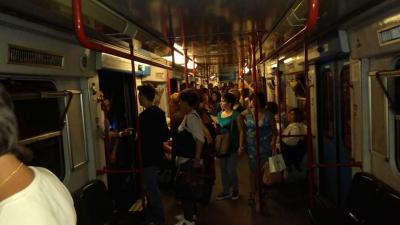 Passengers trapped on a stationary train had to use an emergency platform
ROME – An air-supply cable failure on metro line B in the Italian capital triggered panic amongst commuters and tourists on Friday as 1500 people had to be evacuated from Policlinico station, officials said.
 Several passengers called the emergency services having heard an explosion, although the false alarm was confused with a technical failure, shortly after 8a.m., which let off smoke and sparks.
 One train ground to a halt at Policlinico station as passengers were forced to use an emergency platform to escape the subway.
 "After 20 minutes stalled on the tracks with the carriages packed, they made us evacuate," a young woman said, who was caught up in the incident.
 Several sections of the metro were interrupted as emergency services worked to fix the problem, whilst normal operations between Castro Pretorio and Monti Tiburtini remain suspended.
 The breakdown adds to the chaos across the Eternal City as public transport strikes, stretching throughout the country, take place over the course of Friday, with rail, air and bus services affected.
 Rome transport providers Atac confirmed there was no explosion on line B, adding that all necessary safety procedures were taken, "immediately activating an over-ground replacement service and, at the same time, proceeded with the evacuation of the train, which was completed within the strict time limit."
 "All this took place in accordance with the procedures for protecting passengers, to whom Atac apologised for the inconvenience caused," Atac added.
 af