Rome's potholes set to cost 15 million in damages in 2018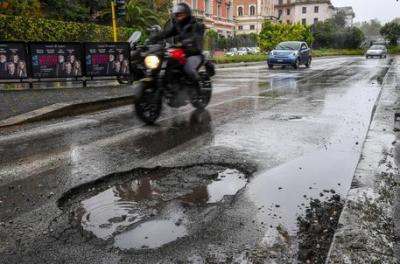 ROME – According to data from the insurance company Assicurazioni di Roma (AdiR), the Italian capital will have to pay a record 15 euros million worth of compensation in 2018 alone, as a result of the city's endemic pothole problem.
 This figure was released by leaders of AdiR on Wednesday, during the Transparency Committee chaired by the PD Councillor Marco Palumbo.
 "Assicurazioni di Roma estimates that in 2018 it will have to pay 15 million euros worth of damages for potholes. A record in recent years. More consistent and expensive compensation compared to previous years. Money deducted from the Roman capital's profits," said Palumbo.
 "The data presented today by AdiR," he continued, "albeit partial and not quite accurate, shows the trend in claims for damages in a marked and progressive increase. The main reason is due to lack of maintenance of roads in 2017."
 The estimate was determined by calculating the number of complaints filed to date by people in the capital.
 The figure shows a sharp increase compared to 2017, most likely because of the heavy rainfall that has inevitably opened up and created numerous craters and holes in the city's streets and sidewalks.
 "The increase in complaints is closely correlated to the millimetres of rain that fell during winter," said the director of AdiR, Andrea Toschi. "A particularly intense phenomenon this year, which has created huge problems. The dilemmas cited in the newspapers have also pushed an increasingly number of people to file for complaints."
 However, several technicians from the SIMU (Sviluppo Infrastrutture e Manutenzione Urbana) present at the hearing on Wednesday wanted to emphasize that the increase in claims for compensation is attributable to problems in the minor road networks as opposed to the major road systems.
 The fact still remains though, that 2018 might be a record year for the level of compensation the capital will have to pay to Romans, who've stumbled into a pothole or had their tyres destroyed. 
 In 2015 the city spent €14 million in damages, in 2016 they paid €10.2 million, while in 2017 the figure was a much more modest €7 million. 
 fct