Delrio ridicules Conte's 'puppet-like' leadership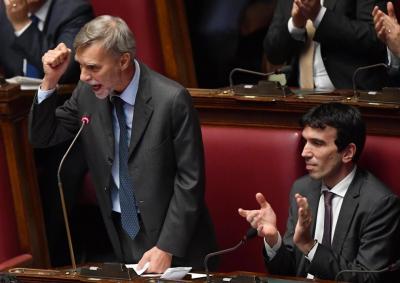 Graziano Delrio (left) led the attack on Prime Minister Giuseppe Conte
ROME – Italian media joined Democratic Party members in poking fun at Prime Minister Giuseppe Conte on Thursday for a series of gaffes in his maiden speech to the Lower House, where he won the confidence of parliament, political sources said.
 Conte's M5S-League government is now fully operational having sailed through the vote of confidence in the Chamber of Deputies on Wednesday evening. He won 350 votes in favour of his inexperienced coalition, with 236 against, accumulating a comfortable cushion of 114, parliamentary officials said.
  Yet, his victory was tarnished by a string of blunders, drawing disdain from opposition, as he threw in a list of "faux pas and dubious statements" after losing his notes, as reported in Corriere della Sera, and found himself amid a heated debate on the conflict of interest, telling the Chamber "everyone has his own."
 The Italian newspaper also noted that, whilst the M5S-League government won a second vote of confidence, "their excitement and self-satisfaction is perhaps excessive … and they should bear in mind that the real opposition might not be in Parliament."
 Former minister for the Democratic Party Graziano Delrio scorned Conte's "puppet" style of leadereship, announcing that the populist coalition would not have his vote of confidence. In a scathing attack, Delrio accused Conte of being an example of a "government that is born on deception."
 "If you really want to respect the Constitution," he said, "take the programme you have on the table and rewrite it, take the list of ministers and rewrite it."
 Amongst a catalogue of errors, Conte also failed to remember the name of Italian President Sergio Mattarella's brother, Piersanti, who was murdered by the Mafia in Sicily.
 Criticism of the new Italian government also filtered across borders as the New York Times labelled Conte's cabinet as "incompetent and bigot: a miserable group."
 Meanwhile, the PD's Maurizio Martina warned Conte that his party would be in firm opposition, acting as "the popular alternative, the social alternative."
 "If you decide to present amnesty in disguise, we will fight you. If you decide to discriminate children in nurseries by birth, we will fight you. If you decide to do a tax counter-reform where those who have most pay less, we will fight you," Martina said.
 Conte shifts his focus now to the G7 summit in Canada on Friday and Saturday, for which he insisted that "Italy's first position will be to make itself known, and it's second will be to make itself respected."
 af
Results from the Lower House vote of confidence