Ultra leader & director of stewards arrested in drug blitz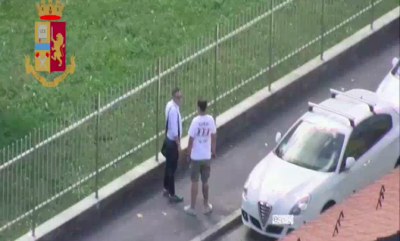 MILAN – Inter-Milan's director of stewards, Massimo Mannelli, and the historic leader of AC Milan's ultra fans, Luca Lucci, were both arrested on Monday for drug trafficking, officials say.
 According to investigators, Luca Lucci, 37, who already has a record for sporting crime, allegedly received the drugs from some Albanians inside the headquarters of the 'Al Clan' in Sesto San Giovanni, on via Sacco and Vanzetti, and then redistributed them around the city. He is now serving a DASPO (Divieto di Accedere alle manifestazioni SPOrtive) ground attendance ban.
 During the inquiry, 140 phone numbers were intercepted and 600 pounds of marijuana, hashish and cocaine were seized.
 The agents of the investigative team in Milan, directed by Ivo Morelli, carried out a precautionary custody order against 22 people: 15 were arrested, of whom two are already detained, four are abroad and three others are currently being sought out.
 Mannelli and Lucci were amongst those arrested by the Milanese State police.
 These arrests come as the culmination of an operation that started more than two years ago in March 2016, after the arrest of Davide Palizza. Police caught him with a pound of marijuana and carrying several mobile phones, from which they discovered a network of contacts.  
 The Curva Sud ultra chief, Luca Lucci, has several precedents for sporting crime, including a fight in which an Inter fan, Virgilio "Virgi" Motta, lost an eye on Feb 15, 2009 at the Meazza stadium. He then committed suicide three years later.  
 fct